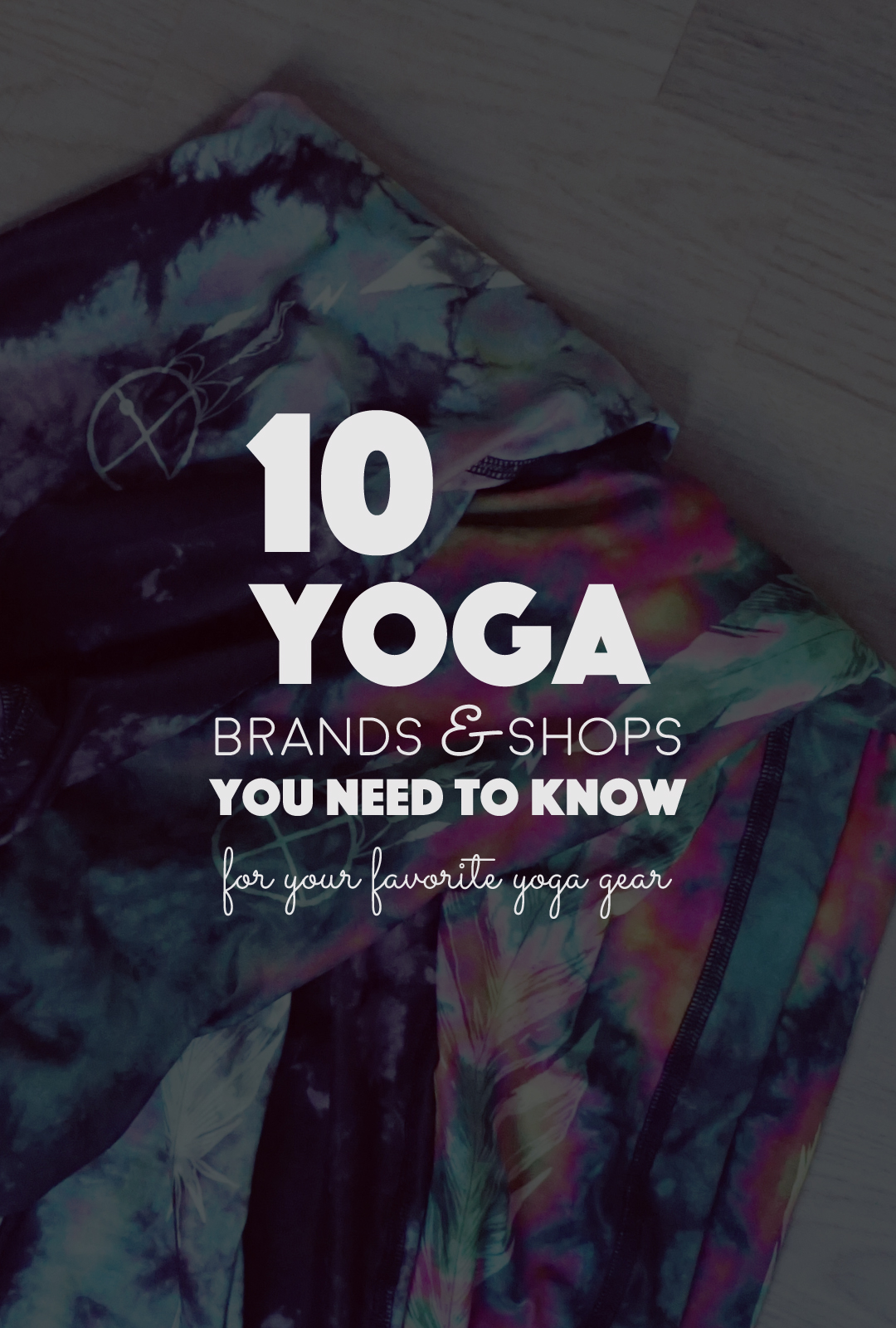 Do you ever wish you could just live in your yoga clothes? I know I do.
I recently had a coffee spilling accident at work, pouring a cup all over myself instead of into my mouth. A dreadful situation to many, but I was thrilled to have an excuse to change into my favourite yoga pants that I (thankfully) had with me. I instantly felt more comfortable and spent the rest of my work day resisting the temptation to melt into downward facing dog.
Granted, yoga is not about how you look or what you're wearing, but the right yogi gear will definitely make you feel more comfortable and able to focus on your practice.
Whether it's for yoga class or your everyday outfits, here's the 10 Yoga Brands & Shops You Need to Know.
My absolute favorite yoga tights are from Teeki! They fit like a second skin and I use any excuse to slip into them, whether it's for yoga class or when I've just spilled coffee all over my jeans. Teeki are an eco and sustainability couscous brand that make yoga tights and clothes from recycled water bottles through an eco friendly process.
Yoga Rebel is a big online shop based out of England. So if you're in Europe, here's where you can get your hands on those international brands without having to deal with extra import taxes and crazy shipping charges. Yoga Rebel stock brands like Teeki, Spiritual Gangster, Alo Yoga, Manduka, Onzie, and more.
RE3 – recycle, reform and revive are another eco and sustainability conscious brand. Just like Teeki, they create their tights from recycled plastic bottles. They've got lots of gorgeous prints, I have yet to try them but have got my eyes on a pair or two.
Electric & Rose sell yoga and activewear for men and women. They've got both tights, tops, comfy loungewear, as well as some accessories and yoga mats. If you're looking for edgy and pretty prints, Electric & Rose is your game.
La Vie Boheme sell absolutely beautiful yoga mats! I've been drooling over their prints for a long time and been tempted to get one. They sell a small selection of yoga clothes as well that come in the same prints as the yoga mats. You know, if matching your outfit to your mat is your thing.
Love Zuvi have a whole bunch of pretty yoga tights in all kinds of patterns. Just like many of the other brands mentioned here, they're an eco friendly brand that – you guessed it – create their yoga tights from recycled plastic bottles. Plastic bottle yoga tights is definitely a thing.
Spiritual Gangster are sort of the cool kids on the block. If you're into one-liner tees and tanks then their Peace, Love, Yoga tops or their Namaste tanks might be for you. They also sell some accessories like water bottles (complete with those aforementioned yogi quotes).
Eagle Rock Werkshop's clothing stands out a bit among the other brands mentioned here. Their prints are playful and have some unique patterns, like pirates, super heroes, or mermaids printed across the legs of their tights.
Evolve Fit Wear is like a department store for everything yoga. They stock an absolute ton of brands, all geared towards yoga. You can filter and search on the site based on different workout types (for example yoga clothing, hot yoga clothing, or lounge clothing) or draw inspiration from their lookbook.
If you're at all into yoga, you're bound to have come across the name Manduka at one point or another. Manduka specialize in yoga mats for teachers and students. They also sell yoga accessories like blocks, bolsters, bags, and towels.
So, what are your favorite pair of yoga tights? Did I mention them here or have I missed your favorite shop for yoga clothes?
Other yoga clothes you might like
Ombre three-quarter tights | Galaxy Space Print Leggings | Alo Yoga Goddess Ribbed Legging | Teeki Green Eagle Feather Legging | Teeki Mermaid Fairyqueen Legging | Spiritual Gangster Hamsa Tank | Spiritual Gangster Elephant Tank