March 1st is coming up, and a new month means a fresh bunch of Instagram yoga challenges!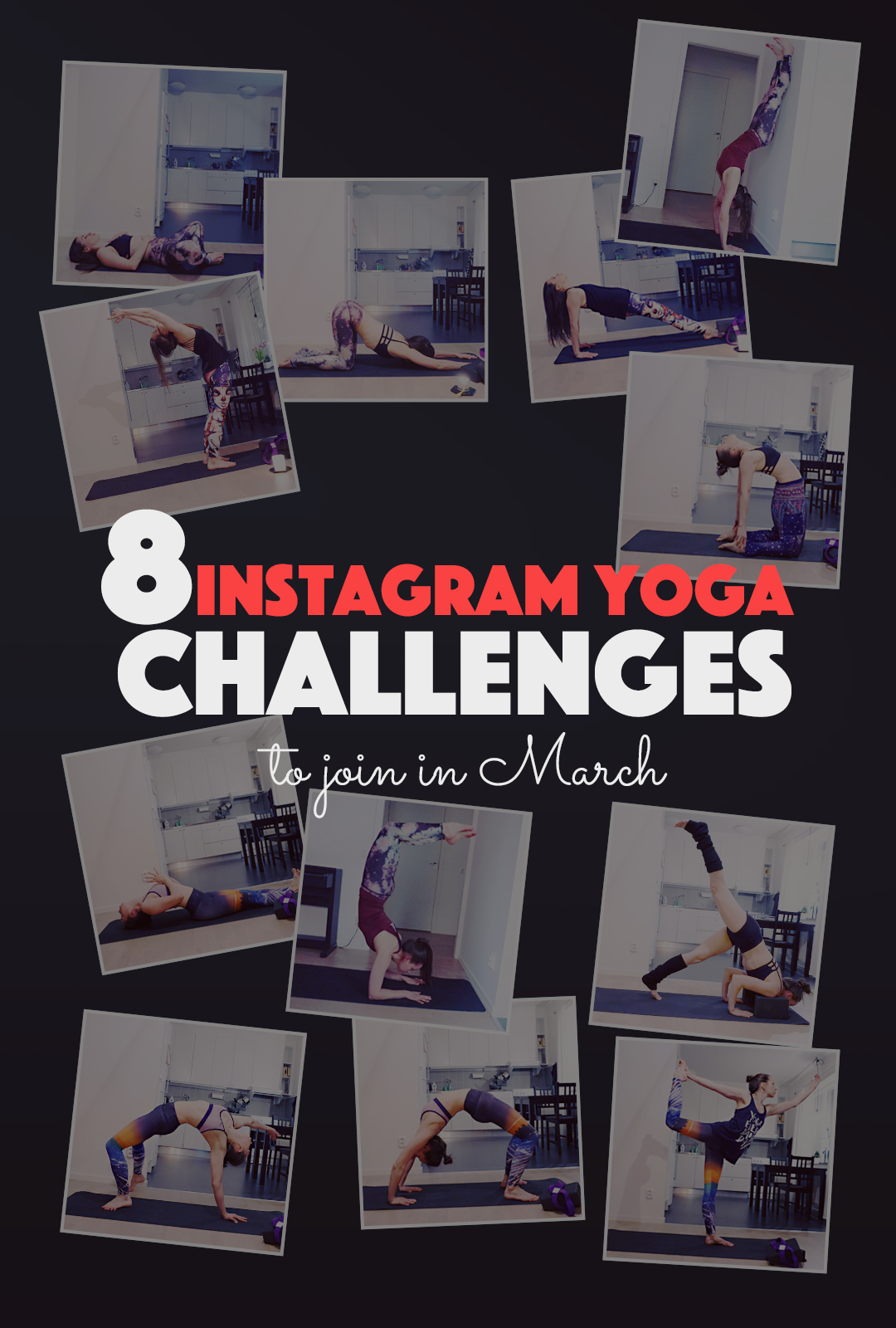 I wrote a post about why you should join a yoga challenge on Instagram a while ago. So for those of you who were intrigued and eager to try one out, this post is to help you find a yoga challenge that'll suit you.
A lot of yoga challenges typically begin at the start of a new month, sometimes lasting the entire month, or just for a couple of days or weeks.
The first yoga challenge I joined lasted for 16 days. In February I participated in a 14 day yoga challenge that was all about heart openers and the love of yoga (it being the month of love and all).

It's easy to get hooked, these challenges are a lot of fun and the community and connection you'll get with other participants is really nice. It doesn't matter if you're a beginner or an advanced yogi, there's something for everyone.
Keep in mind that to stay safe in these challenges, it's so important to check your ego. Listen to your body! Yoga isn't about forcing yourself into a pose. Accept where you are at in your practice and only do what feels right.
Most yoga challenges will include some advanced poses, but that doesn't mean you have to press yourself into them and risk injuring yourself. There are always variations to every pose, so make sure you opt for an alternative version if a pose is new to you. You'll see that a lot of participants do!

Here's a list of yoga challenges starting on Instagram in March, find one that sounds like your cup of tea, and have fun! Most challenges also have sponsors on board that provide prizes for some of the participants at the end of the challenge.
8 Instagram Yoga Challenges to Join in March
When: 1-18th March
Total days and poses: 18
If you often come across yoga challenges on Instagram too late or at a time you cannot commit to participate, this one is for you. Yoga Challenge Hits is a compilation of several past yoga challenges, and the hosts' favourite asanas from those challenges.
When: 1-9th March
Total days and poses: 9
This challenge is all about the sun salutation or Surya Namaskar A. The sequence is an essential part of your yoga practice and a good way to sretch and strengthen all of the major muscle groups in your body. For this challenge, the hosts will teach you the basic pose for each part of the sun salutation flow.
When: 12-26th March
Total days and poses: 14
Prizes:
This two week plank challenge starts mid-month and is all about planks. So if you're looking to improve on or practice your planks and different variations of them, this challenge is for you.
When: 1-20th March
Total days and poses: 20
This yoga challenge is focused on strengthening and detoxifying poses. A type of Spring cleaning for you body and soul. The challenge hosts say this one is for getting the body ready for Spring and releasing the stiffness from winter.
When: 5-20th March
Total days and poses: 15
Beginnning on the 5th of March because that's the official day of Spring. This yoga challenge is aiming to build strength to prevent injury, alleviate back pain and fuel the progress in your practice. This challenge is for all levels of yogis.
When: 1-31st March
Total days and poses: 31
This is a month long yoga challenge with a total of 31 asanas to practice. The challenge hosts aim to create a fun challenge that allows you to go outside your comfort zone whenever you can and based on whatever level you're at with your practice.
When: 13-19th March
Total days and poses: 7
This is a short yoga challenge that's ideal for those who can't or don't want to commit to a longer challenge. The 7 day challenge will focus on various forward folding poses to stretch and strengthen the mind and body.
When: 1-30th March
Total days and poses: 30
This 30 day yoga challenge is focused on strengthening muscles, balance, and flexibility. The hosts have assembled a row of different asanas including heart openers, hip openers, poses for back flexibility, as well as arm balances. The hosts hope to help participants spring forward and see progress during the month long challenge.
Will you be joining an Instagram yoga challenge this month?