At the beginning of this year, I was feeling like I was spending too much time mindlessly watching Netflix or scrolling through my social media feeds and decided I wanted to change that. Instead of feeding my brain Netflix and Instagram, I wanted to take more time to read. So, I set an intention to read more this year.
I've had a Goodreads account for years, where I list the books I've read, what I am currently reading, and what I want to read. It's a handy website (they have an app too) for keeping track of both the books I've read and not forgetting all the books I want to read. My list of "Want To Read"-books is somewhere around 80 books right now, and I keep adding more too it.
So how has this read more intention of mine been going? Well, at the start of the year I entered the 2017 Reading Challenge on Goodreads and set a modest goal to read 12 books this year. In hindsight I realise 12 is quite a low number but my thinking was that I would shoot for about a book a month, since I wasn't sure how much time I'd actually have to devote to reading and I consider myself to be a pretty slow reader. However, 12 was indeed a very low number, because Ive overshot that mark by a lot already. We're about 6 months into 2017 and I just finished my 20th book! According to Goodreads I've reached my goal by 167%.
This will of course not stop me from continuing my reading! But to avoid having to write a longer post than this already is, I've decided to share my thoughts on the books I've read for the first half of 2017, I intend to share the rest of the books at the end of the year.
20 Books I've Read (so far) in 2017
The following books are listed in reverse order, meaning the one I read most recently is first. I've chosen not to go into detail of the plot of each book, I'll let you read the blurb on Amazon, my focus has just been to give a general thumbs up or down of what I thought of the book.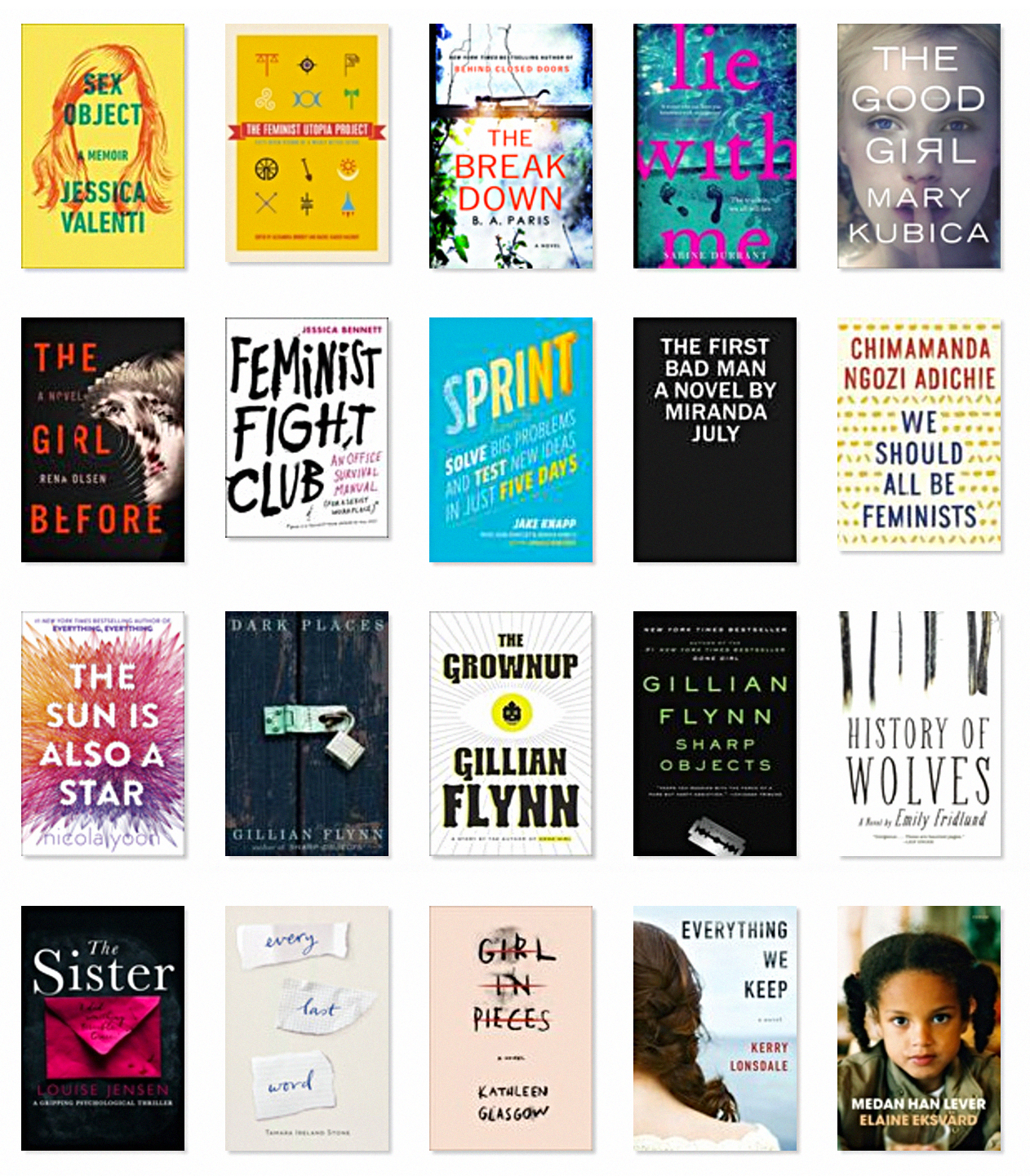 I ploughed through this book in a matter of days. Sex Object is a memoir written by Guardian US columnist Jessica Valenti who has been leading the national conversation on gender and politics for over a decade. Her style of writing is quick, funny and quirky making this one of those books you can easily engulf in a couple of days. So many of the experiences Valenti writes about are relatable to me, and I'm sure most women. Which is of course a shame and I wish that weren't the case, but in being able to relate comes a certain comfort. I definitely recommend this book!
This is an awesome collection of various stories imagining what a feminist utopia would look like. Some stories depict a time far in the future looking back on our culture today in awe over the inequality of our time, others focus more on specific topics, imagining how a scenario would differ in a feminist utopia compared to today. A really enjoyed this read and several of the stories quickly became my favourites.
This story starts out with the main character Cass seeing a car in the woods, strangely parked in an area known to be dangerous. Since then, she's been forgetting things, she starts getting silent calls and has a strange feeling that someone is watching her. Her husband is understanding and supportive but Cass starts to wonder if she is going insane. A suspenseful novel but I found it to be a little bit too predictable.
This psychological thriller is quite the page turner. The story is told by the main character Paul, who is a thoroughly unlikable guy. He leeches off the people around him, but then again, the people around him aren't very easy to like either. His twists and little lies to benefit himself give you the hand sweats, wondering if or when he's going to be caught out in his little mischief. A good read if you like suspense and psychological thrillers.
This book is about a kidnapping with a bit of a twist. Mia is taken by Colin who is supposed to just be a middle hand, delivering her to his employers, but instead he decides to take her to a cabin in Minnesota. Jeopardising his own life and Mia's. I was a little disappointed in this book because it was advertised as a book for fans of Gone Girl (by Jillian Flynn) but I didn't feel like it at all lived up to that. It was too predictable and corny.
Clara Lawson is pulled from her life when armed men invade her home without warning and separate her from her husband and daughter. The last thing her husband says is say nothing. The chapters alternate between past and present as a story of manipulation and brain washing unfolds. I enjoyed this psychological suspense novel and think it gives a good picture of just how much manipulation and brain-washing can make you believe in a life that is far from reality.
I LOVED this book! I bought it on my Kindle but it's on my list to buy it in paper back because I want to dog-ear and highlight so many passages in this book and keep looking back at it as a reference. I've recommended this book to all my girlfriends and they've loved it too. The Feminist Fight club touches on common topics all women can relate to, from the mansplaining co-workers to imposter syndrome. Read it!
I work as a designer, so sometimes I read books that have to do with my profession. This was one of those books. A friend of mine, who also works as a designer, recommended it. It was an interesting read and I've since passed it on to my team lead at work who been raving about it since he started reading it. Sprint outlines the one-week Sprint and how it can aid in quickly solving problems and moving forward with new ideas.
I think I first saw Lena Dunham talk about this book on her Instagram. I decided to give it a go and thought it was okay but I struggled a little bit with the style of it. It was a little bit slow at parts, but not terrible. This story is about Cheryl who lives alone and struggles with various mental "ghosts" of sorts, among others her obsession with Philip, a board member at the women's self-defence non-profit where she works. Then Cheryl's bosses ask if their twenty-one-year-old daughter Clee can move into her house for a little while, and this stirs Cheryl's perfectly ordered life. The First Bad Man is very different from other books I've read, but definitely an interesting read.
This is a fairly short read but a great one. Apart from crime/mystery novels I enjoy reading about womens issues/studies and feminism. So this one felt like a "must read" on my list. The book is based off the TEDx talk that Chimamanda Ngozi Adichie did and feels a bit like a biography as she speaks of her personal story and experiences. Add it to your "to read" list.
I was seeing this book mentioned everywhere and decided I had to give it a go. I was hearing so many people raving about it. And it didn't disappoint. It's a touching story that revolves around a subject that is very true to the time we are living in. About Natasha and Daniel who meet by chance on the day that Natasha and her family are due to be deported to Jamaica.
I love Gillian Flynn since reading Gone Girl several years ago. Her crime/mystery novels have yet to disappoint me and I really enjoyed this one. Her books are always page turners.
I found this one listed as one of the Kindle Single and decided to get it simply because it is by Gillian Flynn who, as I mention below, I love. I'd never bought a Kindle Single before but they're short stories. This one was only 97 pages and I ploughed through it one evening before bed. It was different from a lot of the other Flynn books I've read, more of a horror story than a crime novel, but I still liked it.
I've read most of Flynn's books, and as you can tell I've ploughed through three in a row this year. This one was, true to her style, a crime/mystery page turner that didn't leave me disappointed. If you've not read any of Gillian Flynn's books yet, you've been missing out.
I decided to read this after hearing several people talk about it. Expecting something exciting I was unfortunately disappointed. I felt like the story dragged on a little bit too much and it just wasn't my cup of tea.
Meh. I was pretty disappointed in this book to be honest. I was really expecting a page turner, but instead found myself wondering at what point this book was going to get exciting. I have a hard time abandoning a book once I've started it, even ones I really don't like. The Sister was a little too predictable and the story wasn't very interesting or exciting to me.
I found this book to be both touching and it had a really interesting twist to it, albeit perhaps a bit predictable. It's the story of Samantha McAllister who suffers from Obsessive compulsive disorder (also known as OCD) and works very hard to hide it from her popular friends. Then she meets a new friend who brings her to a secret group in her school, which turns out to have life changing effect on Samantha.
I want to offer a trigger warning on this one because it's about self harm and mental illness. I liked this book and think it's good that Glasgow brings these issues to the light through this novel.
This book is a kind of mystery/crime type of novel about a woman who's fiancé vanishes in a boating accident right before their wedding. A bunch of secrets and lies emerge following the finances death. This book didn't leave a very lasting impression on me since I don't remember all that much of what it was about but considering I gave it 3 out 5 stars on Goodreads so I guess I thought it was okay.
This book is in Swedish and the true story of author Elaine Eksvärds childhood and the years of sexual abuse her father put her through. It's a tough read because of the gruesome subject, but a very good book and I admire Eksvärd for having the courage to tell her story.
This post contains some adlinks for Amazon.com