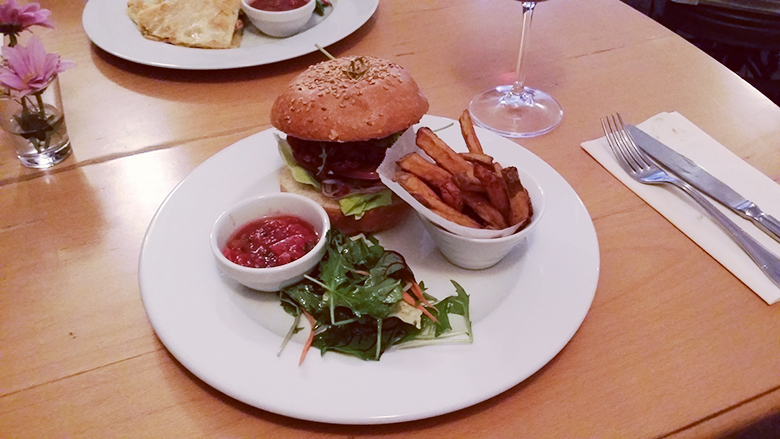 The bean burger at vegetarian restaurant Estella in Prague
TripAdvisor is your best friend during travels, especially if you're looking for something specific, like the best vegan or vegetarian restaurants in the city you're visiting. That's how we found Estrella, a vegetarian restaurant located on Opatovická 17 in Prague, which is the top rated vegetarian restaurant in the city.
We had a great experience at Estrella, and had our stay in Prague been longer we would have definitely made a second visit. The restaurant was small, cozy and romantic, the staff were friendly and the food was great. As a starter we enjoyed the red lentil paté which was absolutely melt-in-your-mouth delicious. For my main I chose the bean burger and Tom had the quesadillas. Both of us were very pleased with our choices. For dessert I asked if they had anything vegan and was recommended the apple sorbet. I'd never had apple sorbet before so this intrigued me. It definitely did not disappoint! Tom went for the strawberries with vanilla cream, which invoked that same lick-the-spoon-clean reaction.
If you're in Prague, make sure you make a stop at Estrella. You'll want to make reservations in advance as it's a small and popular place.