These Brownie Chip Cookies came about from experimenting with my cookie base recipe.
The times I've made my base cookies the past few months they haven't really come out right. They tasted great, but looked pretty sad – very flat and often with the butter melting out of them in the oven.
Some tweaks to the recipe led to these delicious Brownie Chip Cookies!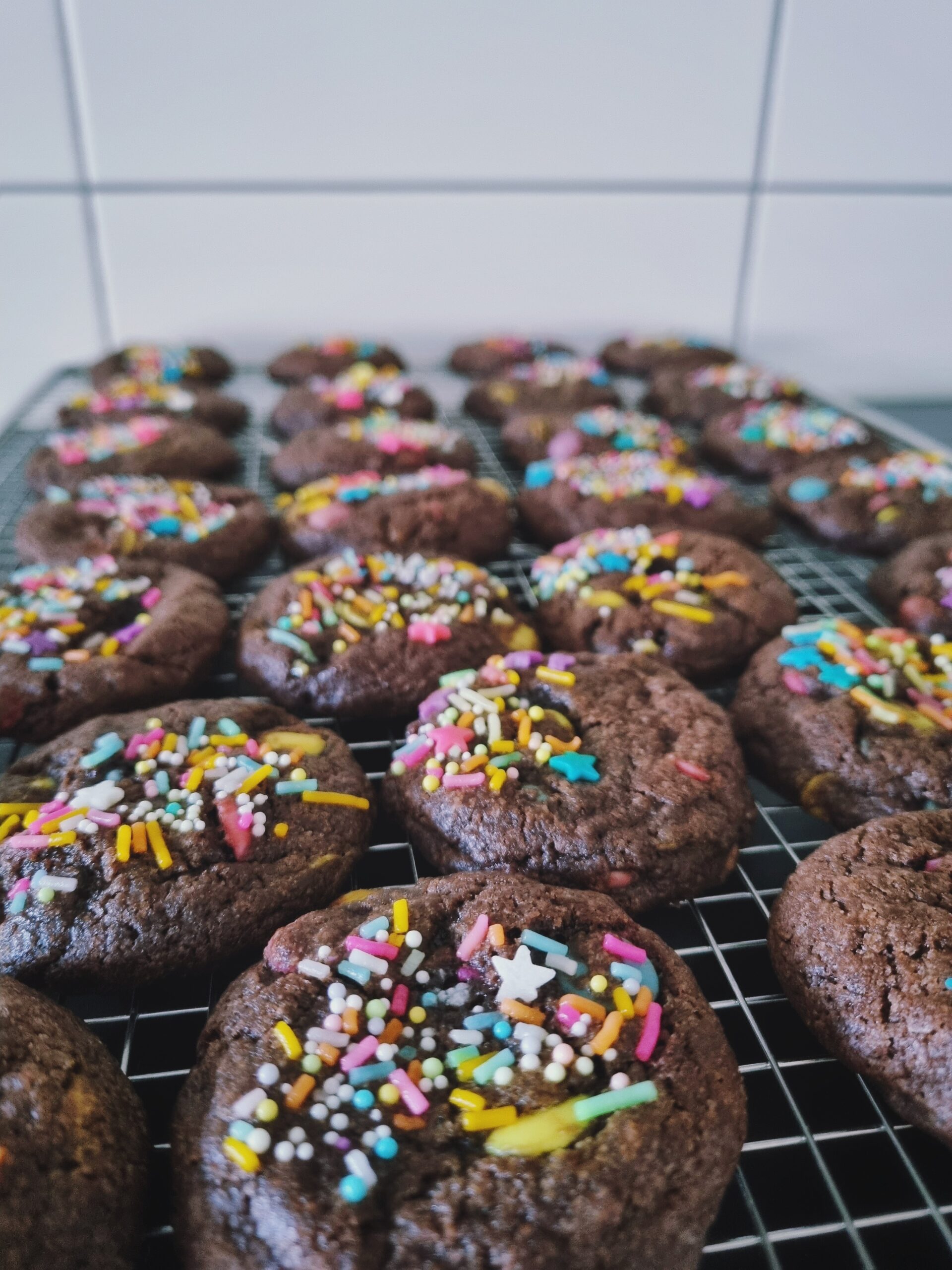 I've weighed out the ingredients for this recipe. It's always better to measure by weight than using measuring cups. Using weight will give you more precise amounts of each ingredient and keep the ratios right.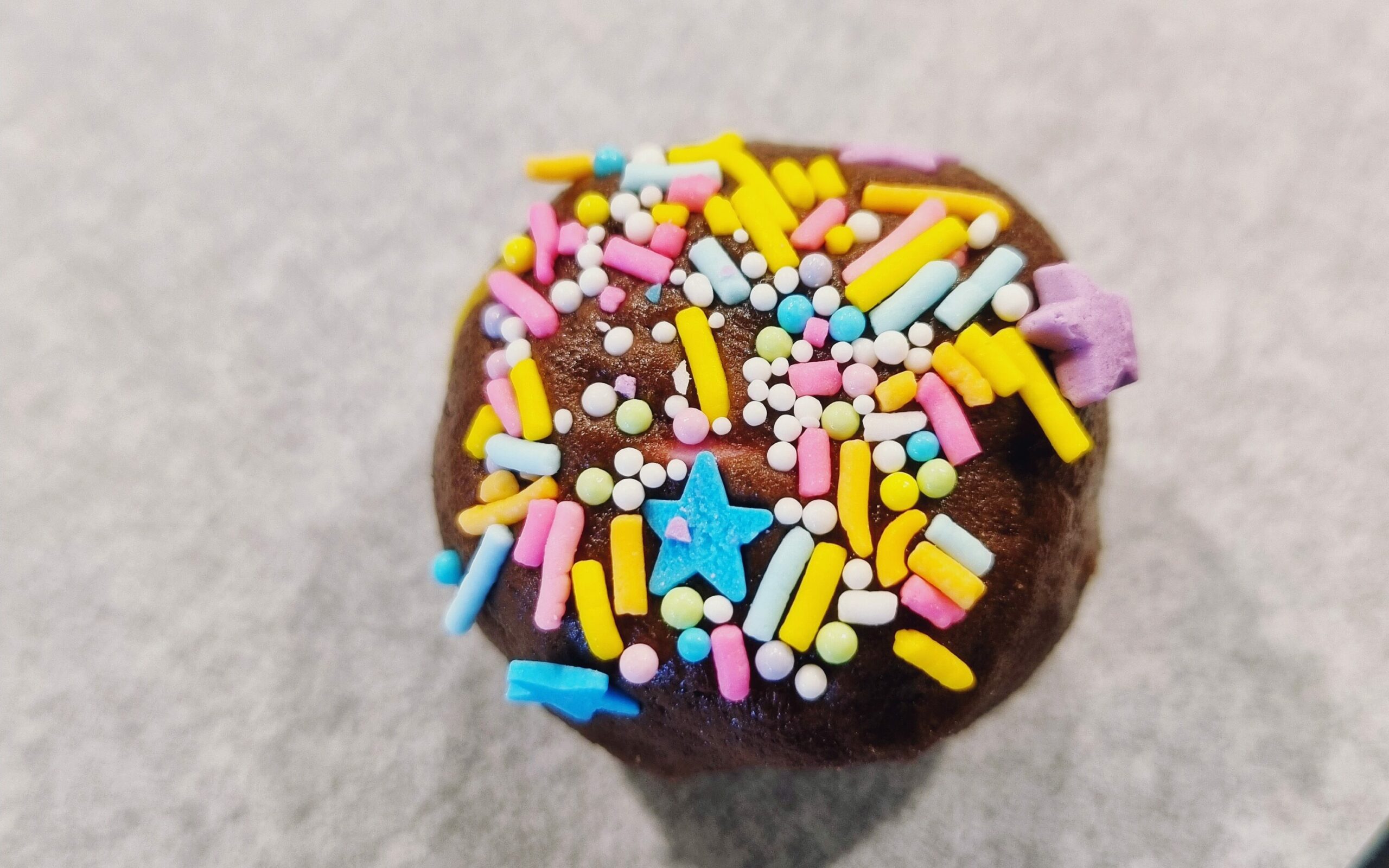 I topped the Brownie Chip Cookies with happy sprinkles. I wanted to make them extra celebratory because they were for a friend's birthday. I love these cute confetti sprinkles. I also used matching coloful chocolate chips.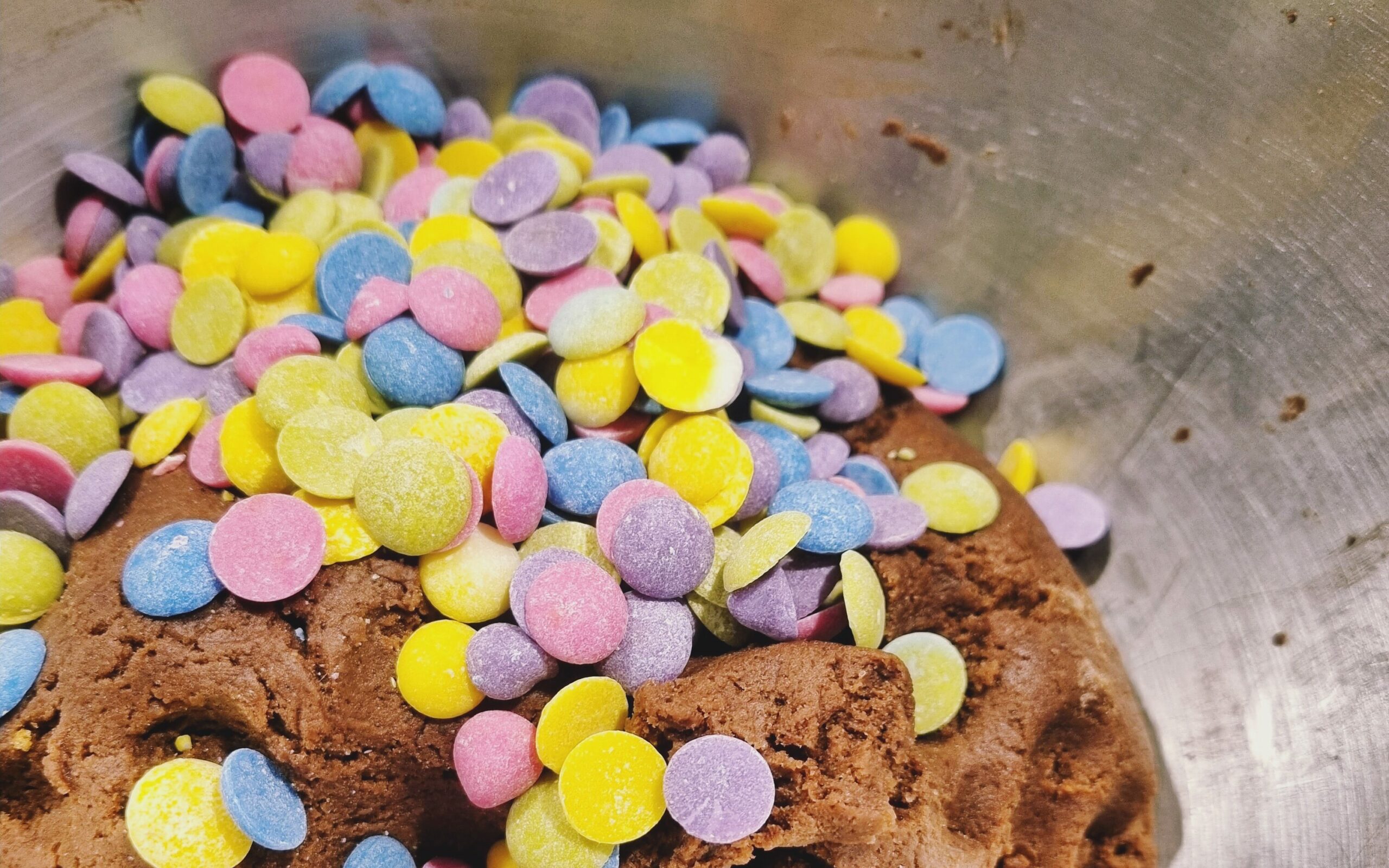 These cookies come out crisp on the outside and chewy or doughy on the inside, just like how I like brownies. Use regular chocolate chips, chopped chocolate or colorful chocolate chips like me. And top with cute sprinkles if you're feeling extra festive!
Brownie Chip Cookies
Makes about 35 cookies
Ingredients
300 g flour
30 g potato starch
30 g cocoa powder
40 g light brown sugar
200 g sugar
1 teaspoon vanilla powder
1 tsp salt
1 tsp baking soda
180 g butter, softened
3/4 cup aquafaba (chickpea brine)
200 g chocolate chips
Optional: sprinkles for topping
Method
1. In a large bowl, mix together all the dry ingredients: flour, potato starch, cocoa powder, light sugars, vanilla powder, salt and baking soda.
2. Add the softened butter and chickpea brine and mix. You'll get a very thick dough, I found mixing it with my hands was the easiest but using a paddle whisk in a baking machine will work fine too.
3. Fold in the chocolate chips and mix until the chocolate chips are evenly distributed in the dough.
4. Preheat the oven to 185C/365F and line a couple of baking trays with parchment paper.
Roll the dough into balls. I use a scale and weigh each ball so they're even about, 30 grams per ball. If using sprinkles, dip one half of each ball into the sprinkles and then place each ball on the baking tray, sprinkled side up. They'll spread a bit so give them space, I do 9 cookies per tray (3 rows of 3).
5. Bake for 10-12 minutes, then let cool a few minutes on the baking tray before carefully transferring the cookies to a cooling rack. Allow to cool completely and enjoy!