I consider myself to be pretty "in-the-loop" about vegan shops, cafés and restaurants in my city and I'm quick to discover and try new places. However, my most recent restaurant visit was booked by my boyfriend as a surprise, and try as I might, I couldn't guess what vegan friendly place he'd picked. Turns out, he'd found a gem I didn't even know was vegan friendly!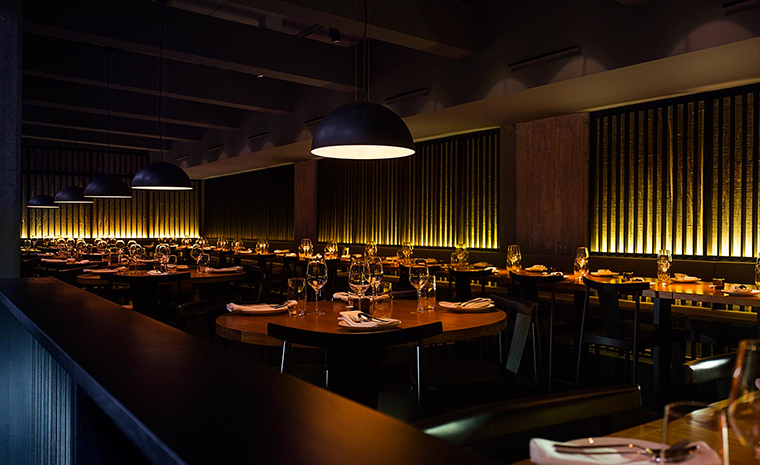 Image credit to Farang.se
He took me to Farang. Here's how their website describes them:
Restaurant Farang takes you on a culinary journey through Thailand, Vietnam, Malaysia and Indonesia. Shared food encourages you to enjoy delicious Southeast Asian flavors without the formality of fine dining. In addition to the tasty food, Farang offers exciting fresh cocktails, an interesting selection of wines and a relaxed yet elegant atmosphere combined with warm service.
Although the options on the á la carte menu looked intriguing, we both opted for one of the three set menus. The menus feature a series of 7-8 dishes including a dessert, and the vegetarian menu is also completely vegan.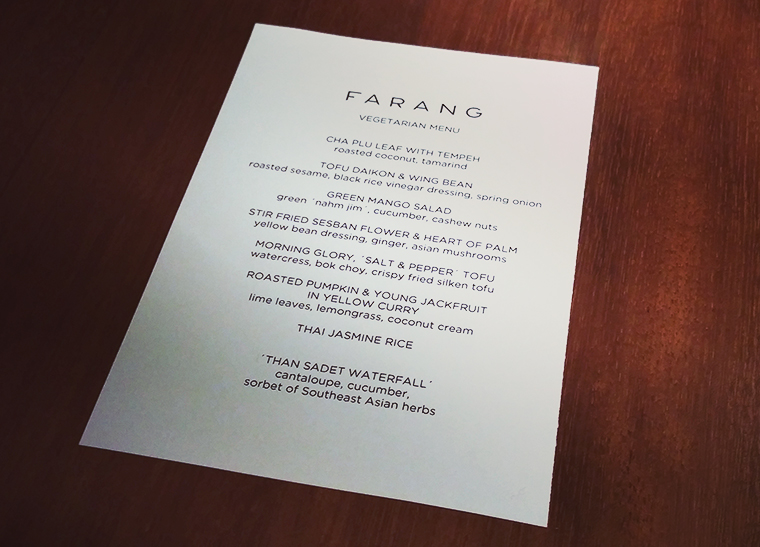 The vegetarian (vegan) menu at Farang
Less than two minutes after ordering, we were served our first dish: Cha Plu Leaf with Tempeh, roasted coconut and tamarind.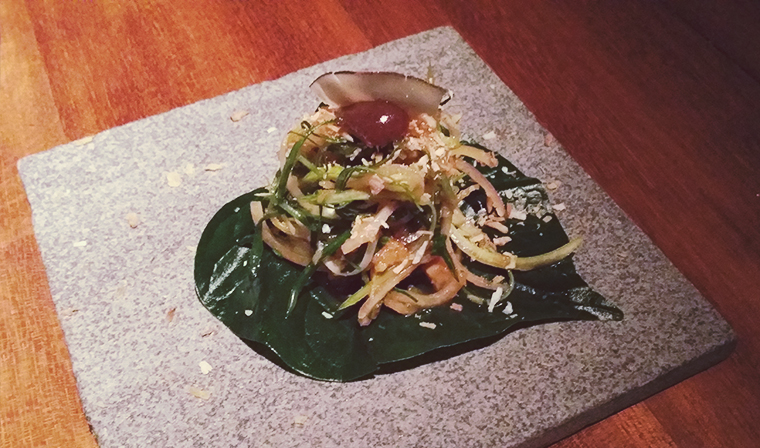 CHA PLU LEAF WITH TEMPEH – roasted coconut, tamarind
Each dish is carefully described by the waitress with elaborate words and hand gestures. We were instructed to fold up the leaf and eat this with our hands. The Cha Plu Leaf dish was a mix of spicy and sweet, I could definitely taste the tamarind and in my last bite I got the tempeh. A good start, my boyfriend and I both agreed.
TOFU DAIKON & WING BEAN – roasted sesame, black rice vinegar dressing, spring onion
Next up was Tofu Daikon & Wing Bean with roasted sesame, black rice vinegar dressing, and spring onion. It had a nice contrast of textures with the silken tofu, crisp fresh vegetables and sesame seeds. Compared to the first dish, this was very mild and slightly lacking in flavour; perhaps it was intended as a palate cleanser after the first dish and in preparation for the next one, which was instead rather overpowering…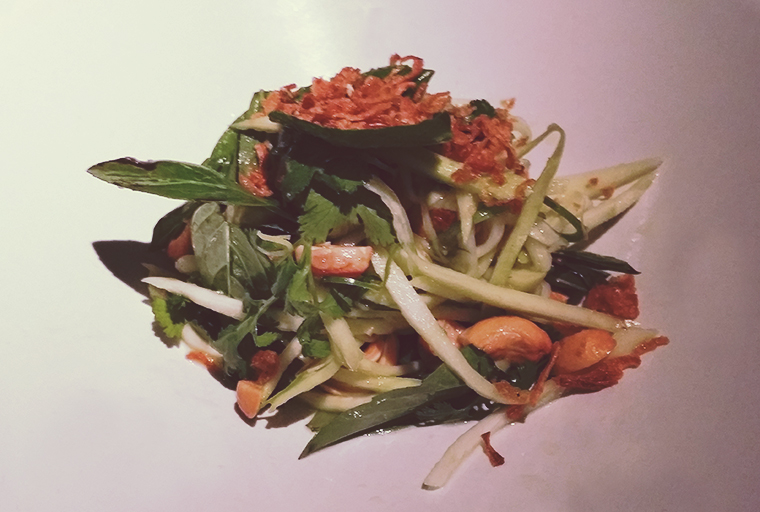 GREEN MANGO SALAD – green 'nahm jim', cucumber, cashew nuts
The Green Mango Salad was my least favourite of all the dishes. I didn't get any of the mango flavour, in fact, I really couldn't taste much of anything other than the overwhelming sourness of citrus juice. I struggled to get this down and left most of it.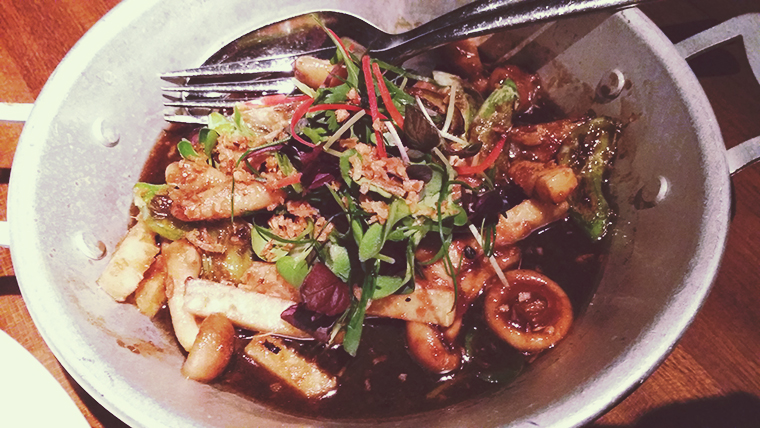 STIR FRIED SESBAN FLOWER & HEART OF PALM – yellow bean dressing, ginger, asian mushrooms
This was my favourite dish; the Stir Fried Sesban Flower & Heart of Palm with yellow bean dressing, ginger, and asian mushrooms, served with jasmine rice. It was one of the best stir frys I've ever had. The flavour of the dressing was great and the vegetables were a nice mix of crispy and soft. I also liked that this introduced me to some vegetables I've never tasted before.
Following the stir fry was Morning Glory, 'Salt & Pepper' Tofu with watercress, bok choy, and crispy fried silken tofu. I forgot to snap a photo of this one. It's one of the mains on their á la carte menu and it's also included in the set meat and fish menus. I applaud Farang for including this dish on their other menus and thus introducing their meat eating guests to something vegan. The Morning Glory dish was mild and had a mix of textures, topped off with a cube of deep fried silken tofu.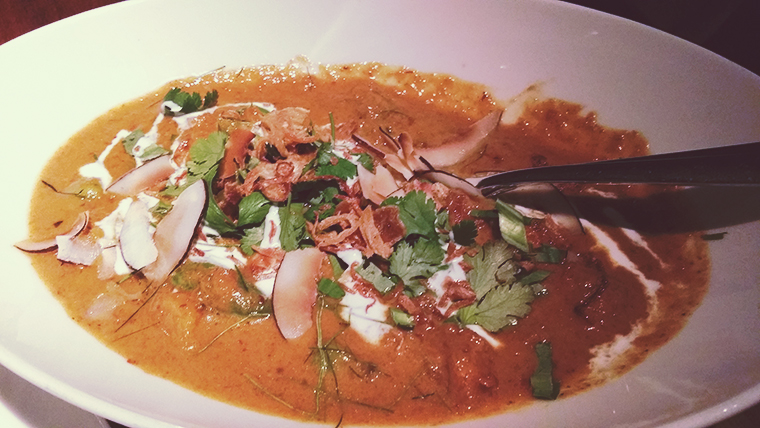 ROASTED PUMPKIN & YOUNG JACKFRUIT IN YELLOW CURRY – lime leaves, lemongrass, coconut cream
The next dish was a curry, Roasted Pumpkin & Young Jackfruit in Yellow Curry with lime leaves, lemongrass, and coconut cream, served with jasmine rice. This was my second favourite dish. The stew was nice and creamy, the slices of coconut added a nice crunch and the pumpkin was perfectly soft.
By this point, we were both feeling pretty full. The service was quick and the flow of dishes was to our satisfaction. The waiters seemed to be in tune with our hunger cues, bringing the first couple of dishes quite close to each other and spacing out the later ones, which were both more filling and larger in portion size. We were grateful to get a bit of breathing space between these last couple of dishes or we might not have been able to make much of a dent in them.
But there was still one last dish to enjoy – dessert! Good thing we all have a separate stomach for dessert.
'THAN SADET WATERFALL' – cantaloupe, cucumber, sorbet of Southeast Asian herbs
Reading the description of this dish; 'Than Sadet Waterfall' with cantaloupe, cucumber, and sorbet of Southeast Asian herbs, I really had no idea what to expect. But it was a perfect way to end this seven course dinner. The sorbet was made of Thai basil, coriander and mint and had a light and refreshing flavour, carefully positioned on a bed of tiny sphere pellets of cantaloupe, mini cubes of cucumber and a sugary coulis swirled around it all.
I had a very pleasant experience and enjoyed the food at Farang. The atmosphere is great, guests are seated in an impressive old industrial hall with soothing dim lighting. The staff is friendly and attentive. And although I didn't love all of the dishes, I was definitely very satisfied with the food overall. I plan on visiting Farang again to try their á la carte menu.
Price for the set menu is 645 SEK
Visit Farang's website here: Farang.se