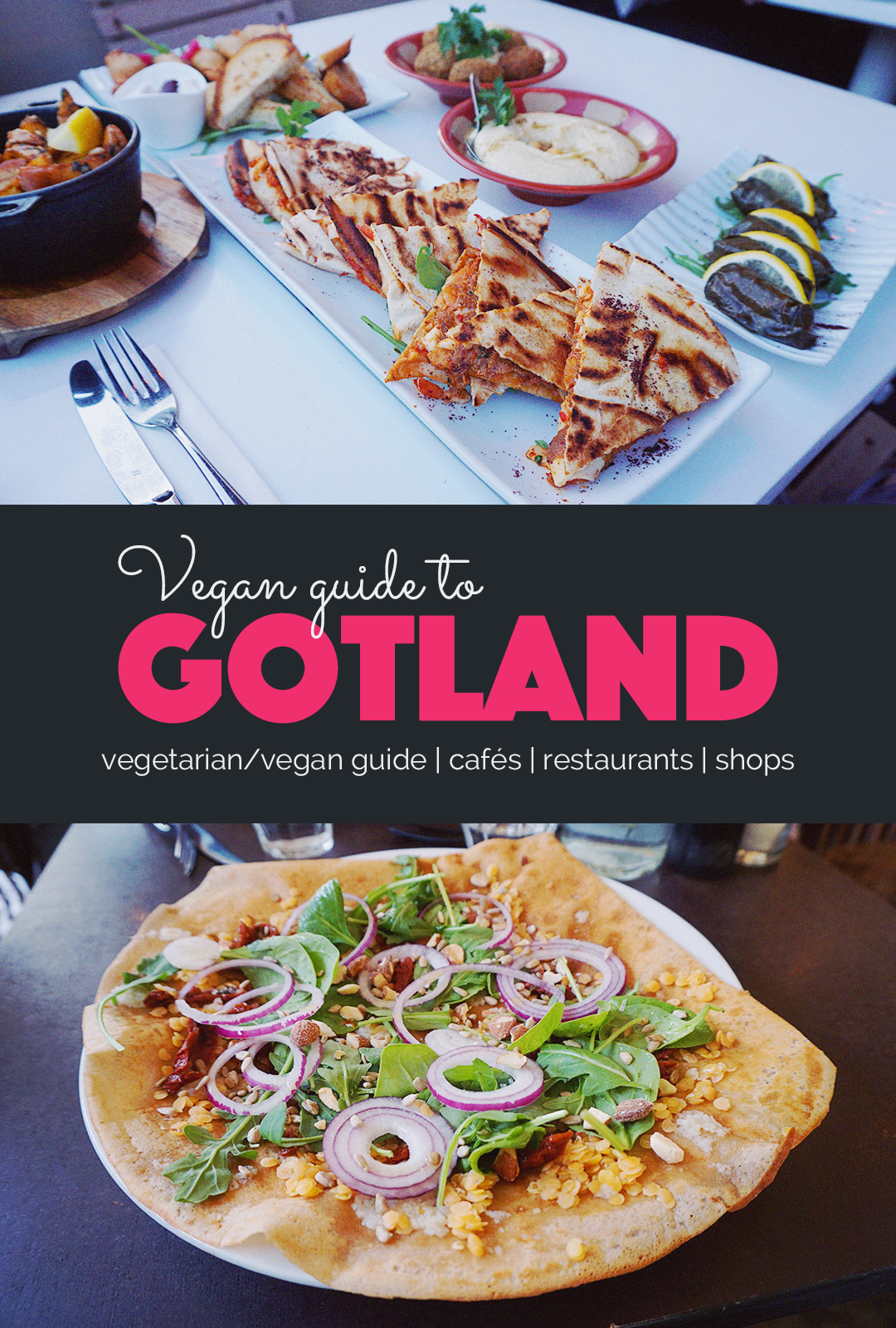 For such a small city – albeit a popular tourist destination – you wouldn't expect to find much in way of plant based cuisine in Visby, Gotland. But as they say, don't judge a book by it's cover. Here's my vegan guide to Gotland – the best vegan and healthy spots to eat in Visby.
Surfers
Södra Kyrkogatan 1 / surfersvisby.com
Sichuan cuisine with a lot of vegetarian and vegan options on the menu. The dishes are small and meant to be shared around the table. Slightly upscale dining and a culinary experience in both texture and flavour. Read my review of Surfers in Visby here.
Crêperie & Logi
Wallers Plats 3 / creperielogi.se
Adorable little crêperie wedged between buildings on a small street in Visby. Catering to all preferences with several vegetarian options on the menu and one all vegan crêpe. Read about our visit to Crêperie & Logi here.
Beyrouth
S:t Hansgatan 15 / beyrouth.se
Their tagline is "We've taken Lebanon to Visby" and that's precisely what they've done. Cosy interior and fantastic Lebanese food. The mezze style dishes allows for food to be shared around the table and there's no shortage of vegan options. Read my review of Beyrouth here.
Josbaren
Hästgatan 2 / josbarenvisby.se
Cute little juice bar offering fresh squeezed juices and smoothies as well as some lunch salads. Open during the summer, and during bigger holidays during the year. Read about my visit to Josbaren here.
Leva Kungslador
Toftavägen 20 / levakungslador.se
Beautiful restaurant, café and boutique with a large garden. Organic and home grown vegetables from their garden are used in their restaurant. Beautiful lunch buffet with lots of veggie dishes, some raw food treats available too. The boutique offers sustainable products and the garden grounds are a lovely place to just hang out and relax. Read about my visit to Leva Kungslador here.
Brooklyn Burgers n' Bar
Södra kyrkogatan 13 / brooklynvisby.se
Burger restaurant with vegetarian burger on the menu (vegan if you ask for it without cheese). The "No meat burger" is a sweet potato and bean burger. They also have classic sides on the menu which are vegan, including sweet potato fries.
Hedbergs bok- och musikkafé
Södra Kyrkogatan 4B / hedbergskafe.com
Café with several vegan options on the menu including soups, sandwiches, cakes, raw food and chocolate balls. Possibly the most vegan friendly spot in Visby, and the perfect spot for your vegan coffee and snack fix.