One of the trips I'll be making this year is to New York City. And with travel plans come lists! Here's my New York City Wanderlust List of restaurants for lunch and dinners, brunch and breakfast places, cafés, bakeries and coffee shops for sweets and coffee, trendy stores for shopping (or window shopping) and places to see and photograph!
This will be the third time I'm visiting NYC and I'm thrilled to be going back. The thing about New York City is that you never really get enough of it, there's always more to see and experience and eat! Which is why my list is never ending and most of the places I've listed below are places I have yet to visit.
Food Stuff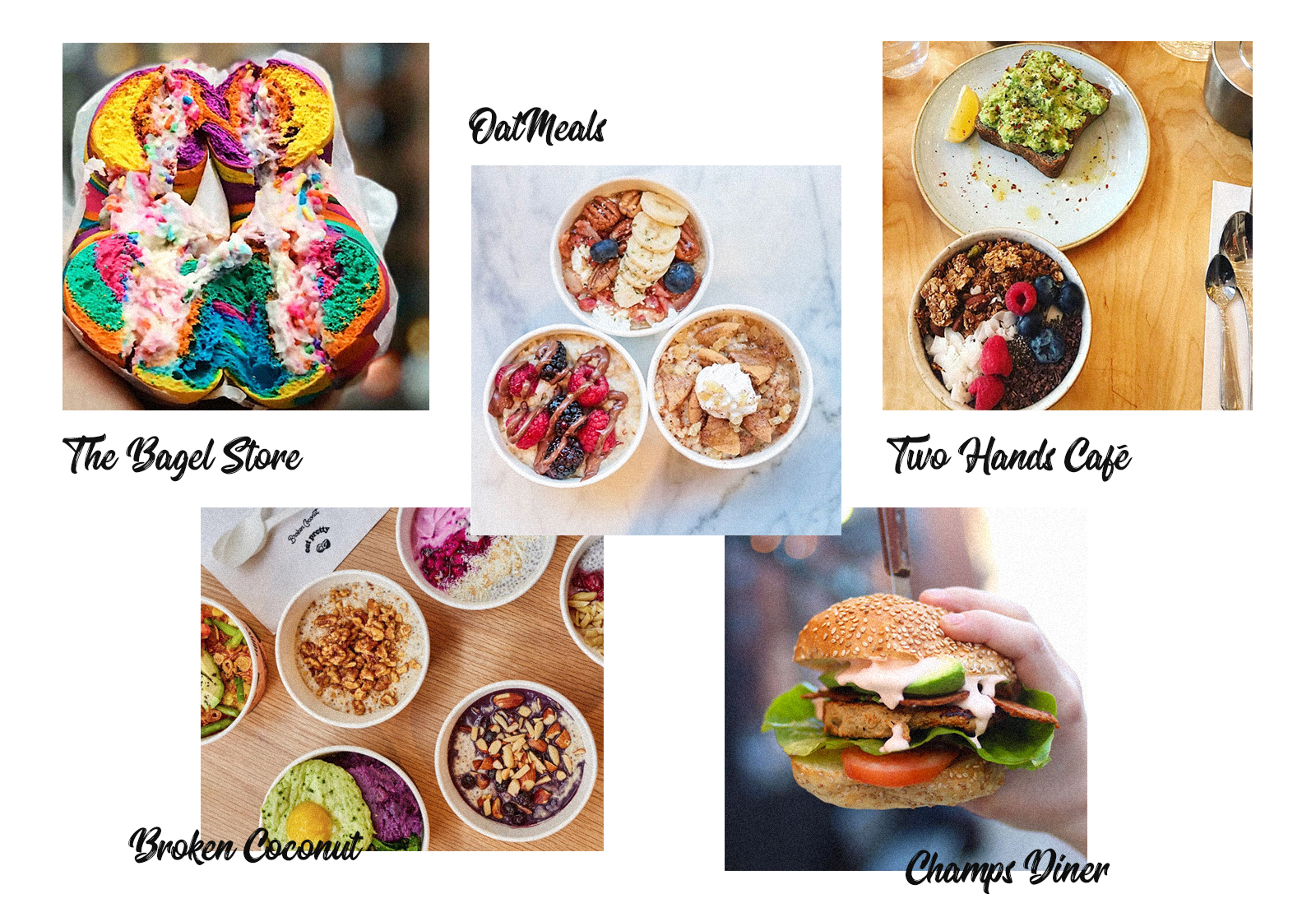 Breakfast & Brunch
The Bagel Store – The world famous rainbow bagels, aka the bagel that broke the internet. Located on 754 Metropolitan Ave in Brooklyn (Williamsburg).
Two Hands Café – Two locations in NYC, in Nolita and Tribeca. Vegetarian and vegan friendly serving up brunch stuff like avocado toast, banana bread, acai bowls and granola. Locations on 164 Mott Street (Nolita) and 251 Church Street (Tribeca).
Broken Coconut – This place looks super pretty and their menu sounds awesome! They've got bountiful bowls, smoothie bowls, chia & oats and lots of other delicious sounding stuff. You'll find them on 15 East 14th Street.
The Smile – This place serves brunch pretty much all day and their menu features anything from fruit salad to waffles, vegan and gluten free peanut butter and jelly cookies, scrambled eggs, oatmeal and granola. Located on 26 Bond Street.
The Smith – Restaurant serving up all the meals you need in a day including breakfast, brunch, lunch, dinner and dessert. For brunch they've got eggs, salads, waffles, sandwiches and burgers. The Smith has four locations in NYC, among others in East Village on 55 3rd Avenue.
OatMeals – I love oatmeal. OatMeals is the world's first all oatmeal café. Their menu features sweet and savoury bowls of oatmeal, or make your own bowl with your choice of toppings. They also have sweets and pastries, all featuring oats, of course. Sounds like my kind of breakfast place. Located on 120 West 3rd Street.
Champ's Diner – An all vegan diner, serving up breakfast, lunch, sandwiches, pancakes, shakes, sundaes and more. Located in Williamsburg on 197 Meserole Street.
Oficina 1M – This place looks amazing if I'm to judge by the geo-tagged photos of the place on Instagram. And let's be real, that's a pretty good way to tell if a place is good (read: popular) or not. Looks like a good place to get your pancakes, waffles, avocado toast or pasta for brunch! You'll find them on 371 Broome Street (right next to Cha Cha Matcha, mentioned further down this list).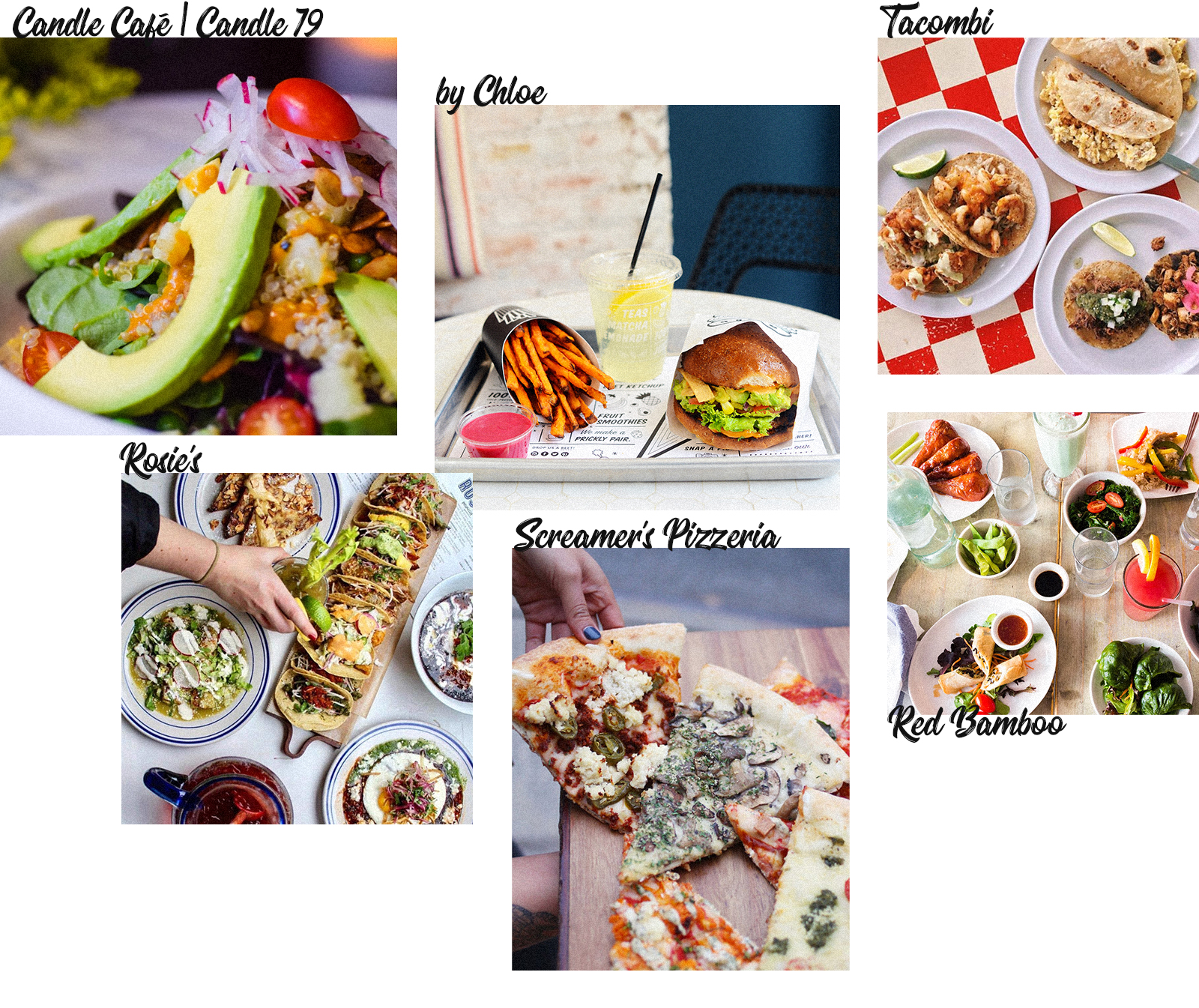 Lunch & Dinner
Red Bamboo – We ate here last time we were in NYC and I definitely want to go back. Hands down the best vegan food I've ever had. The menu is shock full of amazing stuff you want to try, like popcorn "chicken", burgers, sweet potato fries, buffalo "chicken" wings and popcorn "shrimp". All vegan, but you'd never know it was. Located on 140 West 4th Street
The Candle Café | Candle 79 – Organic vegan menu of lighter lunch and dinner dishes. Been around since 1994. Have their own cookbook too and several locations in New York City including Candle Café West on 2427 Broadway and Candle 79 on 154 East 79th Street.
by Chloe – Vegan place that serve up burgers, sandwiches, salads, and brunch. We passed by this place last time we were in NYC but never had the chance to eat here. We did stop for cookies at Sweets by Chloe next door though. by Chloe has three locations in NYC including on 240 Lafayette Street.
Rosie's – Mexican restaurant located on 29 East 2nd Street.
Tacombi – Tacos served out of a converted VW bus. Authentic Mexican taco culture. Several locations in NYC near Empire State Building, Flatiron, Nolita, Bleecker Street.
Superiority Burger – Vegetarian and vegan burger spot, super buzzed about and one that's been on my "to try"-list for a long time. Located on 430 East 9th Street.
Ruby's Café – Gorgeous plates of food, everything from salads to burgers. And they've got breakfast too! Yum! You'll find Ruby's Café in Soho on 219 Mulberry Street.
Modern Love – Swanky vegan comfort food, located in Brooklyn. Their menu is a mix of tofu fish & chips, burrito bowls and mushroom burgers. Located on 317 Union Ave.
Screamer's Pizzeria – All vegan pizzeria! All your classic pizza combinations, including calzones or choose your own toppings. But with vegan ingredients – vegan ham, vegan cheese and a plethora of veggies. Located in Williamsburg on 620 Manhattan Ave.
Beyond Sushi – They call themselves the pioneer of the plant-based sushi movement. They're all vegan and serve up fancy looking sushi. Have heard great things about this place and have wanted to try it for a long time. Beyond Sushi has several locations in NYC including one in Union Square on 229 East 14th Street.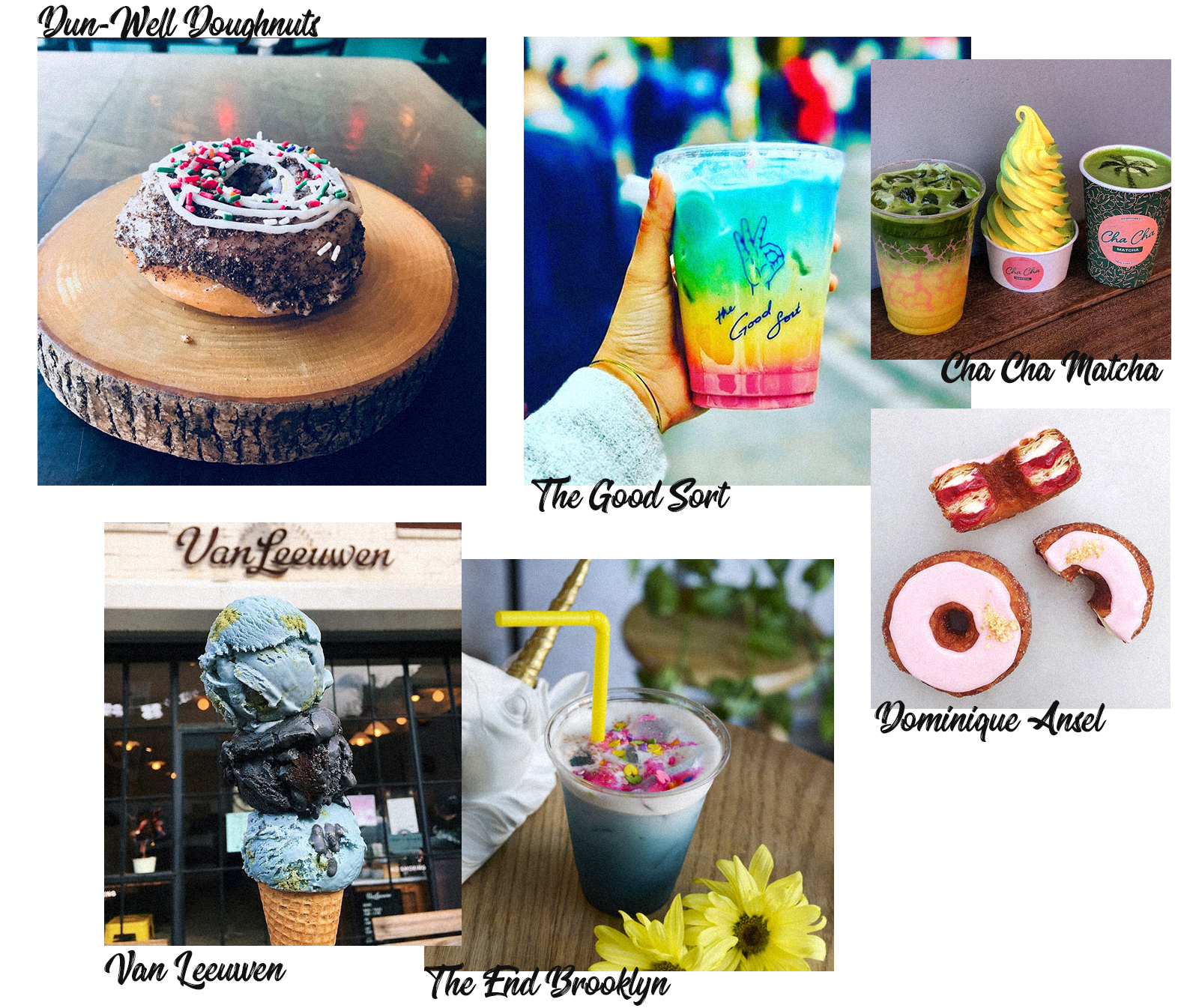 Bakeries, Snacks & Coffee
Dun-Well Doughnuts – My sister cannot stop praising this place. And, well, I can see why – it's an all vegan doughnut shop, what's not to like? Dun-well Doughnuts serve up a daily special of doughnuts including filled and cake doughnuts. Yes, please. They've got locations in Brooklyn and now also in Manhattan on 102 Street Marks Place.
The Good Kind – A vegan tea and espresso bar that supposedly is the original source of the rainbow latte. Obviously I want to go here to sip on an all natural colour explosion. Located on 5 Doyers Street.
Little Choc Apothecary – All vegan and gluten free bakery & café. Their menu includes goodies like banana walnut muffins, crepes, burritos and smoothies. And they've got a never ending list of teas on their apothecary menu. Located on 141 Havemeyer Street in Williamsburg.
Sweets by Chloe – Stopped by here for a delicious cookie last time we were in NYC. They're all vegan and have all the cute sweets you'd imagine – cookies, cupcakes, brownies, cakes. Located on 185 Bleecker Street Suite B, next to by Chloe.
Van Leeuwen Ice Cream – Hand made from scratch vegan and classic ice cream. Made in Brooklyn since 2008. Lots of fun and interesting flavours, but obviously I want to go for the vegan scoops. Several locations in NYC, including on 48.5 East 7th Street.
The End Brooklyn – This is another one that caught my attention because they serve unicorn lattes. They're located in Williamsburg and are a collective that support small businesses. They carry only local products and handmade organic snacks created by friends. They serve raw bright juices, carefully sourced coffee, and colorful plant based beverages. Located on 522 Metropolitan Avenue.
Cha Cha Matcha – I came across this place on a whim and it just looks so cute! Pink and green interior, palm trees and happy vibes. Cha Cha Matcha are a café that serve matcha tea, coffee and bites such as matcha ice cream. I wanna go for the colors! Located on 373 Broome Street.
Dominique Ansel – Fancy bakery by the creator of the Cronut (a pastry that is essentially a mix of a croissant and a doughnut). Caught my attention because of the Cronuts, but let's be honest, a bakery is always going to catch my attention. Located on 189 Spring Street.

Shopping
STORY – This place has a really cool concept. They have a point of view like a magazine and change like a gallery. Every 6 weeks they close up and change the store concept completely. Past stores have been themed "Feel Good!", "Beauty", "Home for the Holidays", "Her Story", "Well Being" to name a few. Who knows what the next theme will be! Located on 144 10th Avenue.
Artists & Fleas – This sounds like the flea market of flea markets. Sellers set up shop and sell everything from clothing to jewellery, art and interior design. They've got several locations in New York City, including in SOHO on 568 Broadway and they're open every day.
Dover Street Market – A high fashion company and multi-brand retailer. This place sells a ton of high fashion brands. So perhaps more a place to go for window shopping and inspiration than actual shopping. Located on 160 Lexington Avenue.
Concrete + Water –  Both an online and a physical lifestyle boutique in Brooklyn. Concrete + Water sell quality clothing, shoes, accessories and some homewares. The goods they sell are meant to lend a carefree note to classic style. Located on 485 Driggs Avenue.
Sézane – I came across Sézanes website and loved the clothing, shoes, and accessories. And bummed that I couldn't order because of the import tax it would entail to order from a US online shop. And then I discovered they have beautiful shop locations in Paris, and New York City! Located on 254 Elizabeth Street.
Clare V – Super pretty bags, wallets and other small accessories including a little bit of clothing too (cute tops). Slightly pricey but I'm curious to have a look in this shop. Located on 239 Elizabeth Street.
American Two Shot – A lifestyle boutique that sells one of a kind goods, as well as items from well known designers such as Lazy Oaf, Ganni, Alice Mccall, and Rachel Antonoff. They also sell some homewares like mugs, bowls, and notebooks etc. Located on 135 Grand Street.
The Frankie Shop – This shop describes itself as the go-to place for unfussy, minimal, wallet-conscious styles. They have both an online shop and a store in NYC. Judging by their online shop they sell minimalistic, stylish clothing that have that high fashion look about them. Their store in NYC is located on 100 Stanton Street.
Kikkerland – On their website they describe their store and concept as: Kikkerland Design have traveled the world in search of original designs for things that can make life more enjoyable. Their online store features everything from tea scented erasers to portable bbq suitcases. Located on 493 6th Avenue.
The Koopels – Again, judging by the products on The Kooples website, I think this could be my cup of tea. Curious to go check out one of their stores in New York City. They've got several locations, among others on 115 Mercer Street.
Economy Candy – This place has been around (and family run) since 1937. They have any and every kind of candy you can imagine. It's a tiny store stuffed to the brim full of candy. I'll admit I want to go here more for the experience of it than for the candy. Located on 108 Rivington Street.
Strand Bookstore  – I don't think anyone has missed the fact that I love books. When it comes to bookstores in NYC, Strand Bookstore is legendary. It's got 18 miles of new, used, and rare books. I have yet to visit Stand but it's high up on my list. Located on 828 Broadway.
Barnes & Noble – While we're on the topic of books. I have yet to make a trip to NYC (or anywhere else in the US for that matter) without visiting Barnes & Noble. I love browsing the shelves of the quiet bookstore, checking out best sellers and new releases. Barnes & Noble have several locations in NYC, including on 33 East 17th Street.
Anthropologie – I can brows the online pages of this store forever and dreamily eye the beautiful homewares, stationary, clothes and accessories. It's not the most budget friendly store, but so full of pretty things it's worth a visit for inspiration and window shopping if nothing else. Located on 85 5th Avenue.
Whole Foods Market – I just cannot pass up a visit to Whole Foods while I'm in the US. I just love browsing the isles of the store and picking up snacks and other foodstuffs I've not tried before. They've got several locations in NYC, including on 95 East Houston Street and 250 7th Avenue.
Trader Joe's – For the same reason as I love perusing the isles of Whole Foods, I love browsing Trader Joe's. They're similar to Whole Foods in that they sell a wide range of organic, vegetarian, and slightly "fancier" food products. They've got locations around NYC, among others on 142 East 14th Street.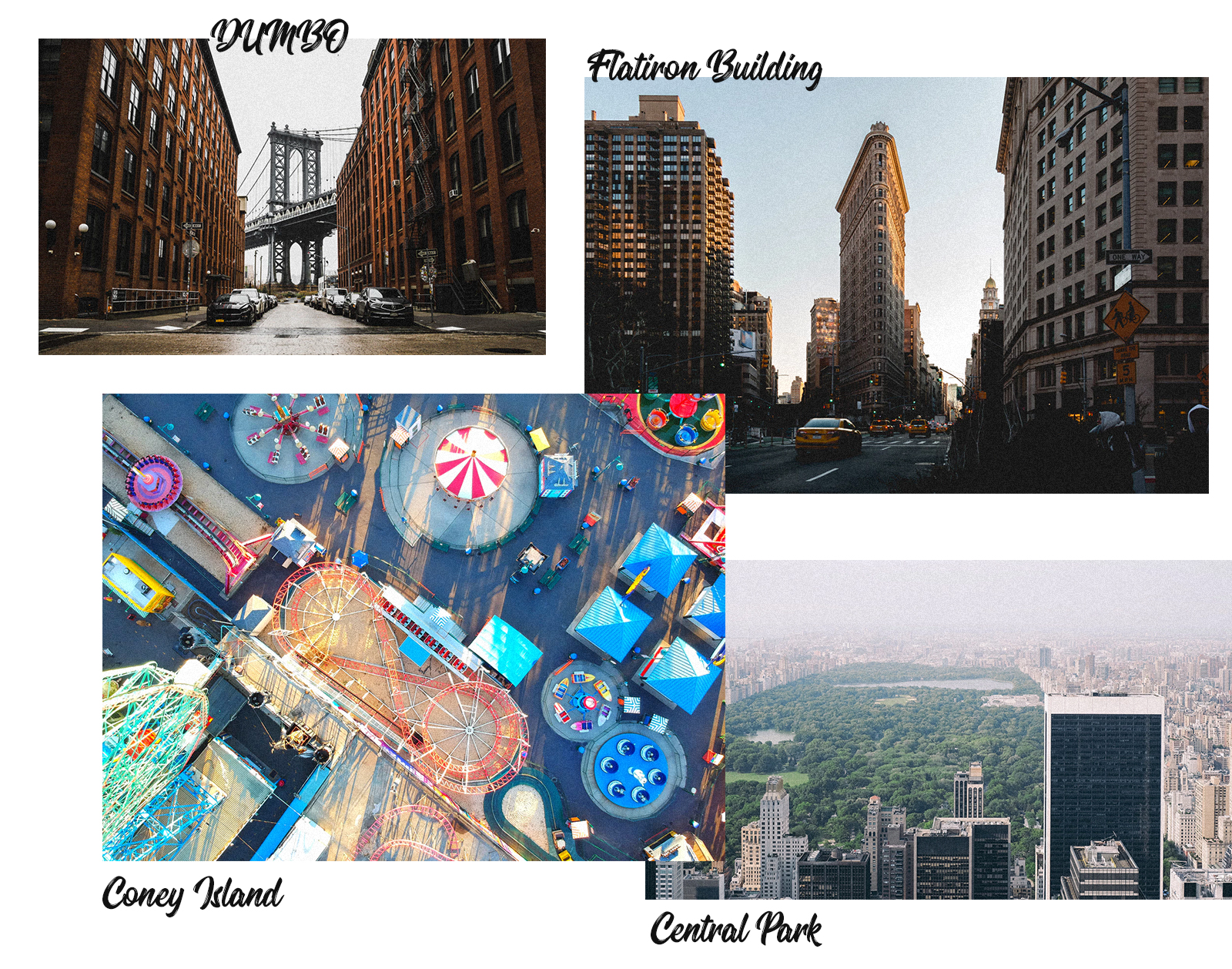 Things to see & photography spots
Dumbo – Down Under the Manhattan Bridge Overpass.
Flatiron Building – Because fun architecture and a great spot for photos.
Coney Island – Fun, quirky, different. And another great spot for colorful photos.
Bryant Park – Because I've never been there.
Central Park – Because I only saw a fraction of it last time I was in NYC.
Broadway – Go see a show on Broadway! Last year we went and saw The Lion King and it was possibly the best thing ever.
Do you have any NYC spots I have yet to add to my list? Share them in the comments!
All photos in this post have been borrowed from the websites and Instagram accounts of the respective shops, restaurants and cafés linked in the lists above.