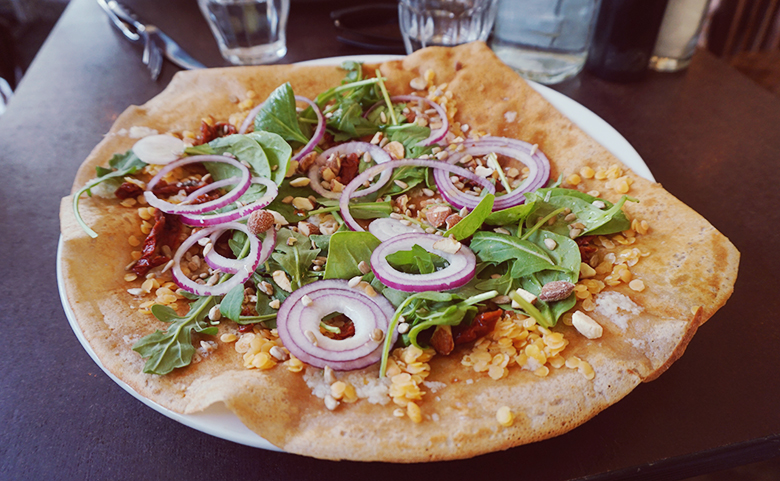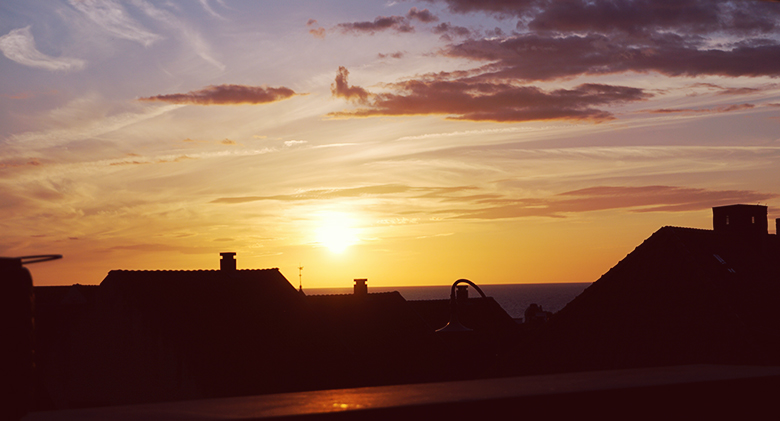 I was intrigued when I heard that Crêperie & Logi have a vegan crêpe in their menu, so since we were in the mood for some french pancakes, we booked a table on our last evening in Gotland.
Crêperie & Logi has been around for years and is a popular crêperie in Visby. The place is crowded between two streets and so small it's hard to imagine they can fit a fully functioning kitchen and tables for several guests inside. And not only that, they also have a luxury suite on the top floor available for bookings.
Unsurprisingly, the interior is very intimate. The house is built some time in the 1700's so the ceilings are low and space very limited. We sat out on their small patio where they can fit more than 16 guests.
Needless to say, I ordered the vegan crêpe. It was topped with red lentils, red onion, arugula, spinach, sun dried tomatoes, freshly pressed garlic, pine nuts and sunflower seeds. I was surprised at what a winning combo this was. The flavours merged perfectly.  I'm not a fan of raw red onion and usually pick it out of my meal, but I gave it a shot and discovered that it definitely enhanced the flavours with these particular ingredients.
The staff were friendly but seemed a little bit distracted, and struggling to keep track of guests. We had to ask them a second time to bring us the bill. In their defence, I can understand that it must be difficult with so many guests crowded in such a small place. Besides, we weren't too bothered about having to wait when, by the end of our meal, the sun was setting and if we peeked out over the walls of the patio we got a stunning view of the burning sky. A perfect end to a wonderful weekend.

4 out of 5 bananas
Great food, nice atmosphere, several vegan options on the menu. Would eat here again and would recommend the place to a friend.