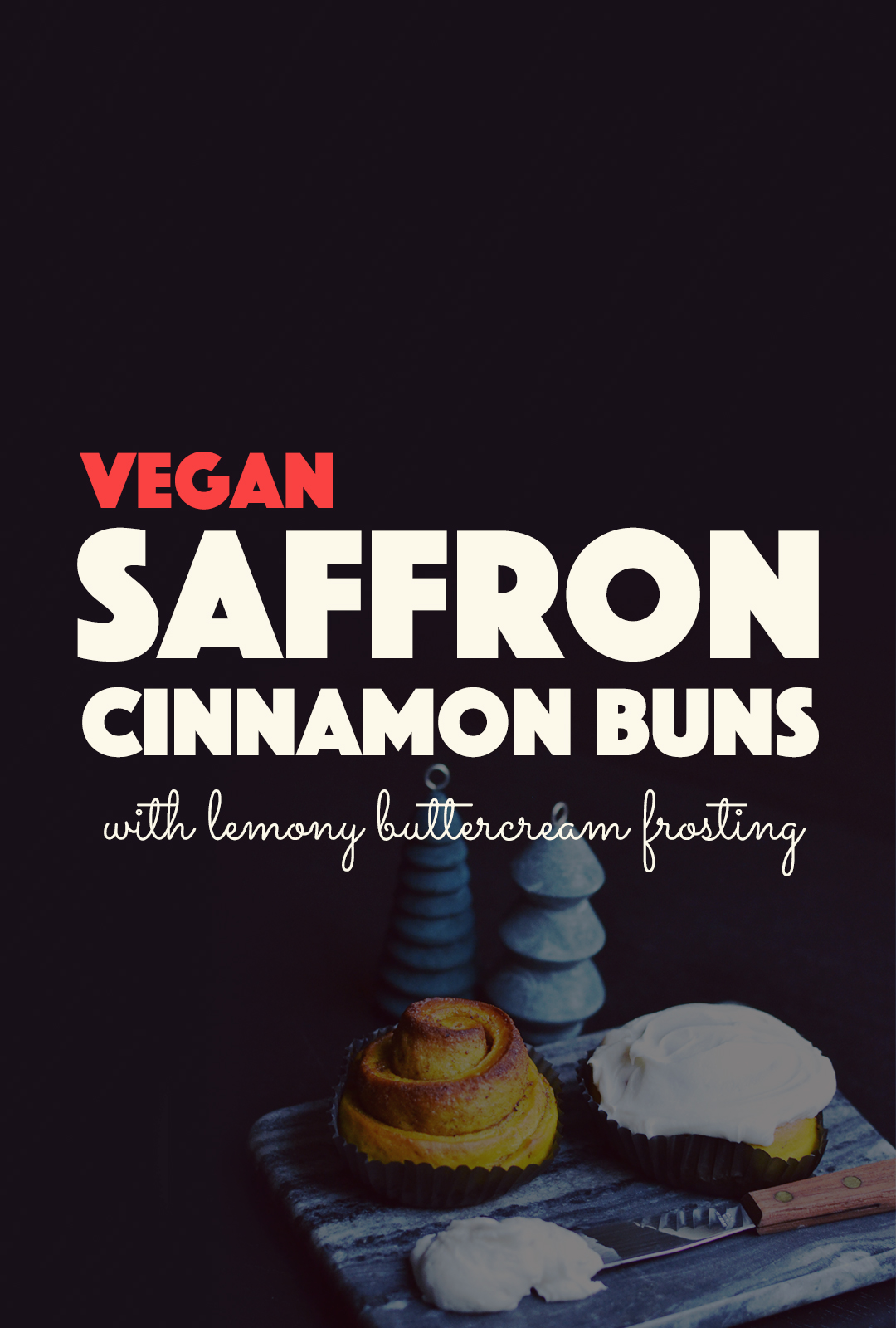 Saffron buns or Lussebullar are a Swedish Christmas classic. The traditional kind is saffron flavoured buns with a couple of raisins in them. Through the years, there's been all kinds of creative takes on them (including a Semla version, which is another classic Swedish bun filled with almond sugar paste and cream), but most people stick to the classic recipe.
I decided to make my own fusion of them. I created a merge of the classic Swedish cinnamon bun and the American cinnamon bun topped with frosting, with the saffron bun as a base.
The result is perhaps not particularly traditional, but I like to think this creation is a trio of classics. Also, frosting. Everything is better with frosting. And saffron buns filled with cinnamon and topped with frosting? Totally freakin' delicious!
Vegan Saffron Buns
50 g (1.7 oz) vegan butter
0,5 g (a pinch) saffron
2 dl (~2/3 cups) non-dairy milk (I used oat milk)
20 g (0.7 oz) fresh yeast
1 dl (~1/3 cups) vanilla soy yogurt
1/2 dl (~1/4 cup) sugar
pinch of salt
6-7 dl (~3 cups) all purpose flour
Filling
75 g (2.6 oz) vegan butter, softened
1/2 dl  (~1/4 cup) sugar
1 tsp vanilla extract
1 tsp cinnamon
Frosting
50 g (1.7 oz) butter, softened
6-8 dl (2-4 cups) powdered sugar
juice of 1 lemon
splash of non-dairy milk
Directions
Melt the butter in a small saucepan over medium heat. Crush the saffron in a mortel and add it to the melted butter. Add the non-dairy milk and allow the mixture to come to lukewarm temperature.
Crumble the yeast in a bowl and pour the buttermilk mixture over it, stir until the yeast has dissolved.
Add the vanilla soy yoghurt, sugar and salt. Stir until combined.
Start adding the flour and mix with your hands. If the dough is too sticky, add a little bit more flour (but be careful not to add too much). Knead by hand for about 10 minutes, or in a baking machine for 5 minutes.
Place the dough in a bowl and cover with a clean towel, let rest for 45 minutes.
While the dough rests, prepare your filling – whip together the softened butter, sugar, vanilla extract and cinnamon. Set aside.
Place paper cups on a baking tray.
Cut the dough in two pieces and roll it out to a 3mm (0.1 inch) thick rectangle. Spread half of the filling on top. Starting from the short end, roll the dough up and then cut into slices, about 3 cm (1 inch) wide. Place in the paper cups. Repeat with the other half of the dough and filling.
Cover the buns with a clean towel and let rest for 40 minutes.
Make the frosting by whipping together the softened butter, powdered sugar, lemon and non-dairy milk. Set aside.
Preheat the oven to 200 C (392 F).
Brush the tops of each of the buns with a little bit of non-dairy milk. Then bake in the middle of the oven for 10-15 minutes, until golden on top. Allow to cool completely under a clean towel. Then spread the frosting on top.
Enjoy!