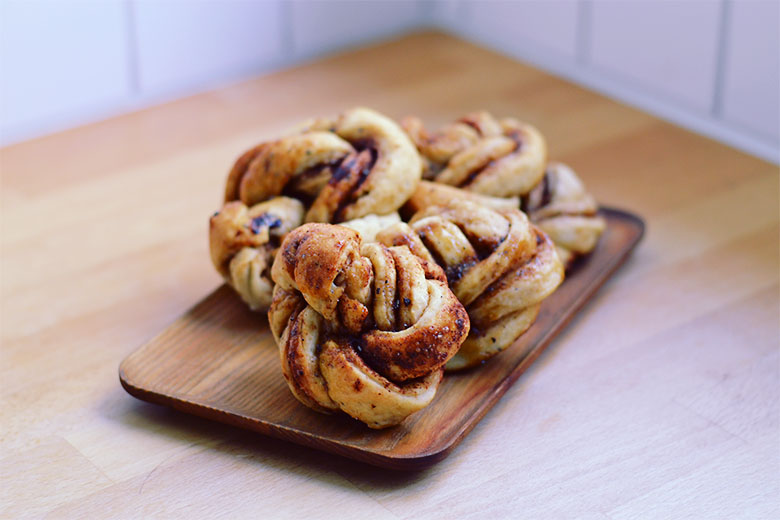 Whenever the vegan word is brought up in conversation, the first question is usually "But where do you get your protein?" However, in my case, it's most often "But you love baking! You can't bake if you're vegan, right?" How unimaginative and severely lacking in the creative department I would be if a vegan lifestyle were to prevent me from baking delicious treats.
This weekend was Cinnamon Bun Day in Sweden ("Kanelbullens Dag" in Swedish). On a regular day, Swedes are pretty enthusiastic about their fika and cinnamon buns, but on "Kanelbullens Dag" it's on a different level. So, did being vegan prevent me from baking cinnamon buns on October 4th? Of course not.
Vegan Cinnamon Buns / Kanelbullar
Yield: 20-25 buns
150 grams / 5 oz vegetable butter
4 dl / 1.6 cups almond milk (or other vegan milk)
1 dl / 0.5 cups vanilla soy yoghurt
50 g / 1.7 oz fresh yeast
4 Tbsp raw cane sugar
1 tsp cardamon, freshly ground
12 dl / 5 cups flour
Filling 1
100g / 3.5 oz vegetable butter
1 Tbsp cinnamon
4 Tbsp coconut sugar
1 Tbsp muscovado sugar
Filling 2
3 Tbsp coconut oil (not melted)
4 Tbsp coconut sugar
1 Tbsp cinnamon
Method
Crumble the yeast in a large bowl, add the sugar and cardamon and mix to allow the yeast to start dissolving. Melt the butter in a saucepan over medium heat, add the milk and heat until it is lukewarm. Pour the milk and butter mixture over the yeast and stir until the sugar and yeast has dissolved, then add the vanilla soy yoghurt and mix until combined. Slowly add the flour and then knead the dough for at least 10 minutes until it's smooth and elastic. Grease a bowl with coconut oil, place the dough in it, cover with a clean towel and let it rest for 40 minutes or until doubled in size.
In a medium bowl, mix all the ingredients for your choice of filling.
Once the dough has rested, roll it out into a 0.5 cm thick rectangle and spread the filling on half of the rectangle. Fold over the other half and slice into 2 cm strips, then cut each strip in half almost all the way through so you have what looks like a pair of pants. Twist each strip around itself and twirl into a round. Place on a baking sheet lined with parchment paper and cover with a clean towel. Allow the buns to rise for an additional 30 minutes.
Set the oven to 250 C / 482 F / Gas mark 9. Brush the top of each bun with some almond milk and bake in the oven for 10 minutes until lightly golden, transfer to a wire rack to cool.
To give your cinnamon buns that bakery shop look: once cooled, brush the tops with syrup (make syrup by warming equal parts sugar and water until the sugar has dissolved) and sprinkle with a mix of sugar and freshly ground cardamon (I used coconut sugar for this).
Enjoy!