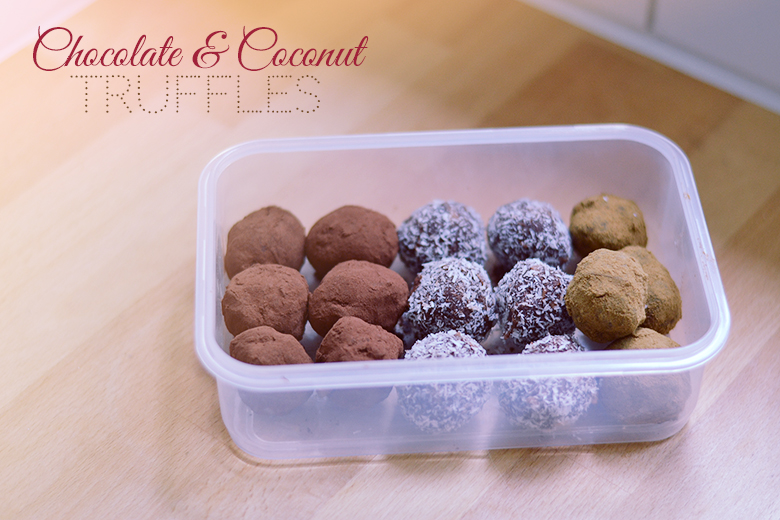 My sister decided to become vegan about a year ago. As a vegan you follow a diet of fruits, vegetables, nuts, and seeds etc. In other words, no dairy or meat. When she visited recently from New York City, I made sure to whip up some vegan treats for her. These coconut truffles were a hit, they're easy to make and can be varied by rolling in different toppings.
I used a 70 percent dark chocolate from Divine Chocolate that had just a hint of mango and coconut.
RECIPE:
Chocolate & Coconut Truffles
Yield: about 16 truffles
INGREDIENTS
3.5 oz / 100 g of good quality non-dairy chocolate (flavoured if you'd like)
1/4 cup almond milk
1/2 tsp salt
1 cup / 2.4 dl shredded unsweetened coconut
1/2 cup / 1 dl flaked unsweetened coconut
Shredded coconut, cocoa powder, chia seeds, sesame seeds, liquorice powder etc. for rolling the truffles in.
HERE'S WHAT YOU DO:
Break up the chocolate into smaller pieces and slowly melt in a medium bowl in the microwave.
Once the chocolate has melted, add the almond milk and salt, stir until combined.
Add the shredded coconut and stir with a spatula until incorporated.
Add the flaked coconut and fold into the chocolate mixture with a spatula.
Roll into bite-sized balls, rolling each one in your topping of choice (I used shredded coconut, cocoa, and liquorice powder).
Store in an airtight container in the fridge.
Enjoy!