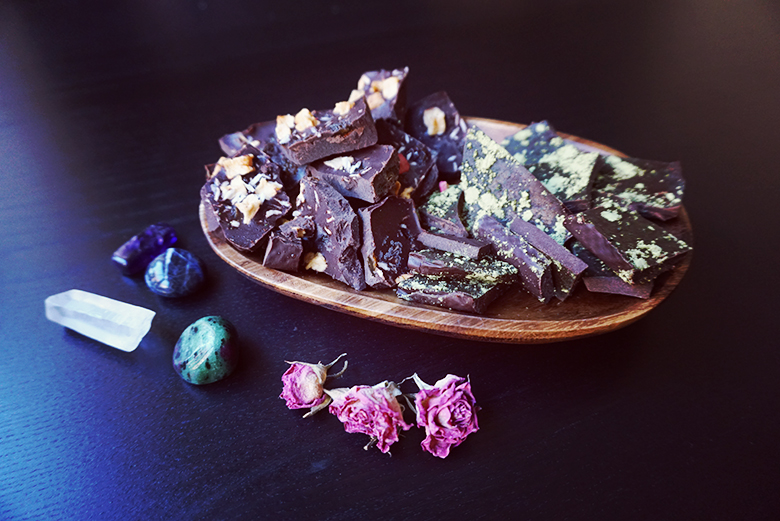 Every evening, I have what I call my "evening snack" or "snackie". I usually enjoy it with whatever TV series we're currently obsessed with (Mr. Robot at the moment). My snack is most often a cup of tea and dates with nut butter, or a raw bar. But if I've got my fridge stocked with some raw treats I've made, that's what I'll be snacking on. Like this raw chocolate I just whipped up the other day.
It can be endlessly varied to serve your flavour preferences. I decided to make a dried fruit version and a matcha flavour this time. How will you flavour your chocolate?
Raw Chocolate Bars
Yield: 2 bars
3/4-1 Cup raw cacao butter
1 Cup raw cacao powder
1 Tbsp date syrup (alternatively agave syrup or maple syrup)
1 tsp Mesquite or Lucuma powder, optional
a pinch of salt
Toppings:
1 tsp matcha powder
1-2 Tbsp dried apple and raisins
How to:
In a small bowl over boiling water, slowly melt the cacao butter (you can also melt it slowly in the microwave, taking it out to stir frequently).
Once melted, transfer to a bigger mixing bowl and add the cacao powder, syrup, mesquite or lucuma powder (if using), and salt. Stir until combined and you've got a smooth batter.
Line two small containers (about 20x15cm / 8×6 inches) with parchment paper. You can also rub with some coconut oil to keep the chocolate from sticking to the container.
Slowly pour half of the batter into one of the containers, and the rest into the other. Let it float out and fill the base of the container.
Sprinkle the toppings evenly over the chocolate and place in the freezer for at least 3 hours to set.
Chop or break up into pieces and enjoy!