I rarely buy granola because most of them have so much sugar in them that I consider them a sweet treat rather than something I should be eating on a daily basis. I prefer making my own blends full of healthy grains and sweetened with dried fruits, carob and mesquite powder. Here's my latest breakfast blend.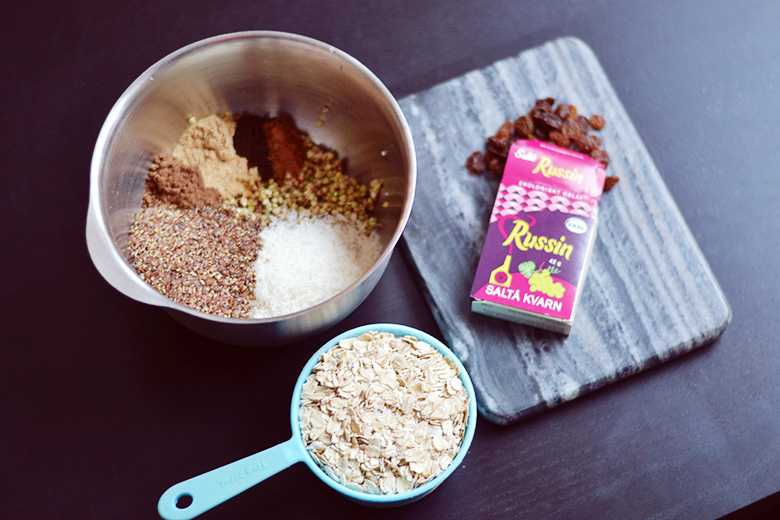 OAT, RAISIN & STRAWBERRY BREAKFAST BLEND
1 cup oats
1/4 cup crushed flaxseeds
1/4 cup unsweetened shredded coconut
2 Tbsp cacao nibs
1/2 cup buckwheat groats
1-2 Tbsp carob powder
1-2 tsp mesquite powder
1 tsp cinnamon
1 tsp liquid vanilla extract
1/2 cup raisins
1/2 cup freeze dried strawberries
METHOD
Set the oven to 300 F / 150 C.
Place the buckwheat in a colander and rinse with water.
In a large bowl, combine all the ingredients except the raisins and the freeze dried strawberries. Stir until combined.
Line a baking tray with pachment paper and spread the mixture over the tray.
Bake in the middle of the oven for 20-30 minutes depending on how roasted you'd like your blend. Keep an eye on it as some of the ingredients will roast a bit faster than others.
Remove from the oven and allow to cool completely.
Once cooled, add the raisins and freeze dried strawberries and mix, then transfer to an airtight container such as a jar.
I like to enjoy this with almond or coconut milk and chopped banana, yum!