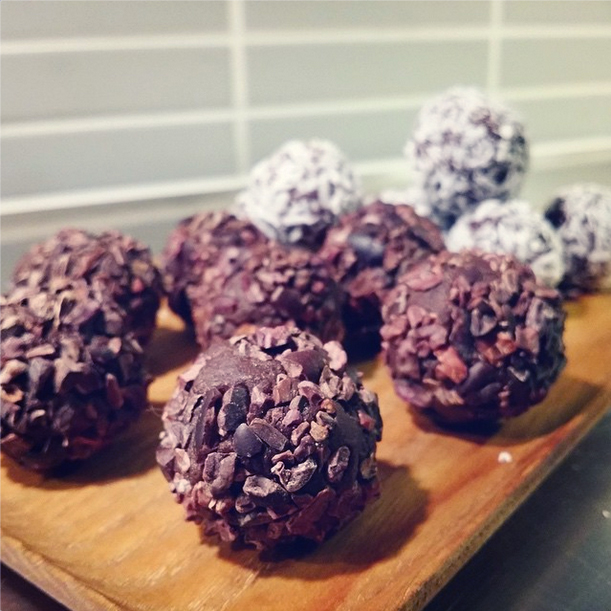 Thanksgiving is this weekend, and Christmas is just around the bend. I don't know about you, but my mind is full of baking and cooking ideas for the holidays.
My sister (who's vegan, like me) will be home this Christmas, visiting from Portland, Oregon. Her pending visit makes me all the more excited to be cooking and baking a plethora of vegan Christmas dishes and sweets to crowd the table and please the crowd.
One thing that'll fit perfectly on the dessert table are these raw balls that I threw together the other day. They're intensely chocolatey and deliciously chewy, made of only four ingredients and nut free too! They're the perfect combination of things that are sure to make my guests happy.
NUT FREE RAW BALLS
Ingredients:
15-20 pitted Medjool dates
1 Tbs Carob powder
1 Tbs Mesquite Powder
2 Tbs Cacao Powder (good quality, organic)
Topping suggestions:
Cacao nibs
Shredded coconut
Method:
Chop up the dates into chunks and place in a food processor. Add the carob, mesquite and cacao powder and blend until you've got a thick "dough". You may have to stop the food processor a couple of times and push down the ball that forms.
Form into bite sized balls and roll in cacao nibs or shredded coconut. Store in an airtight container in the fridge.