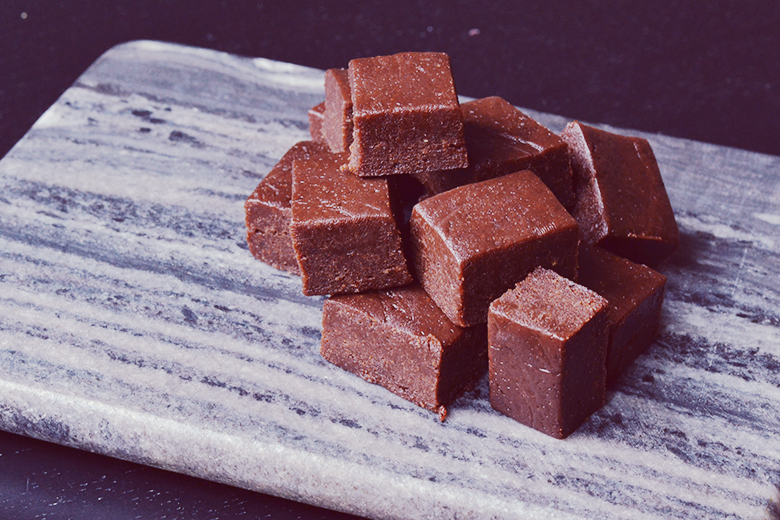 One of my favourite types of candy is fudge. My baking over the years, and especially my veganizing of recipes, has taught me that a lot of things can be "healthified" without sacrificing the flavour. I've been curious to try creating a good-for-you version of the delicious stuff, and that's how this brownie peanut butter fudge came to be.
True to my usual approach, this was one of my baking experiments where I threw things together, crossed my fingers, said a magical little chant and hoped for the best. And it worked! The end result is better than I could have imagined! The consistency and flavour is spot on. Good thing this fudge is refined sugar free, vegan, and full of super foods that are going to make your body jump for joy, because it's totally addictive!
BROWNIE PEANUT BUTTER FUDGE
3/4 cup walnuts
8 medjool dates, pitted
2 Tbsp all natural organic peanut butter
1 Tbsp unsweetened cacao powder
1 tsp pure vanilla powder
1 tsp mesquite powder
2-4 Tbsp brewed coffee, cooled
METHOD
In a food processor, blend the walnuts on high until moist crumbs form (about 5 minutes)
Chop the medjool dates into smaller pieces and add them to the food processor, blend until completely incorporated and no larger pieces remain.
Add the cacao, vanilla, mesquite powder and peanut butter and blend again until incorporated
Add the brewed coffee little by little and blend until you've got a thick consistency (like brownie batter).
Line an small container (about 20x30cm / 8×12 inches) with plastic foil and press the batter into it. Freeze for at least 2 hours before chopping into squares. Store in the freezer.
Enjoy!