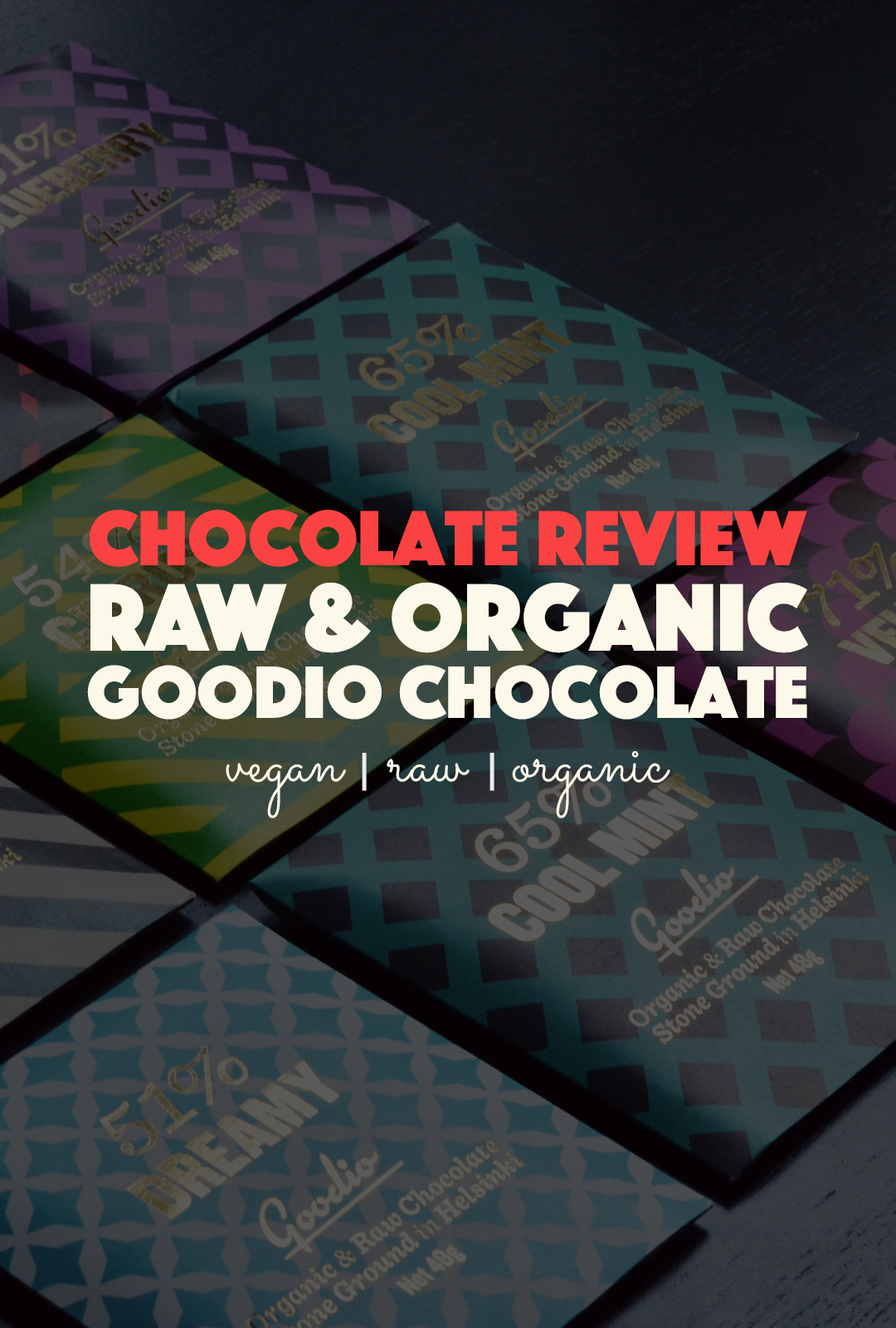 I bet there's a book of reasons to eat chocolate. Like for the times when you've had a bad day, or when you want a little bite of something after dinner, when your heart has been broken, and not to mention that particularly annoying time of the month (for the ladies).
And then there's those times when you receive a whole box of chocolate from Goodio that you know totally passes for healthy because it's organic and raw. And plant based. That is totally an excuse to eat chocolate. And since Goodio sent me eight different flavours, I obviously had to taste test them all. Anything else would be totally irresponsible of me.
So that's exactly what I did. I dove right into my new box of precious chocolates and did a proper tasting of all the flavours. A necessary job in order to put together this Goodio chocolate review.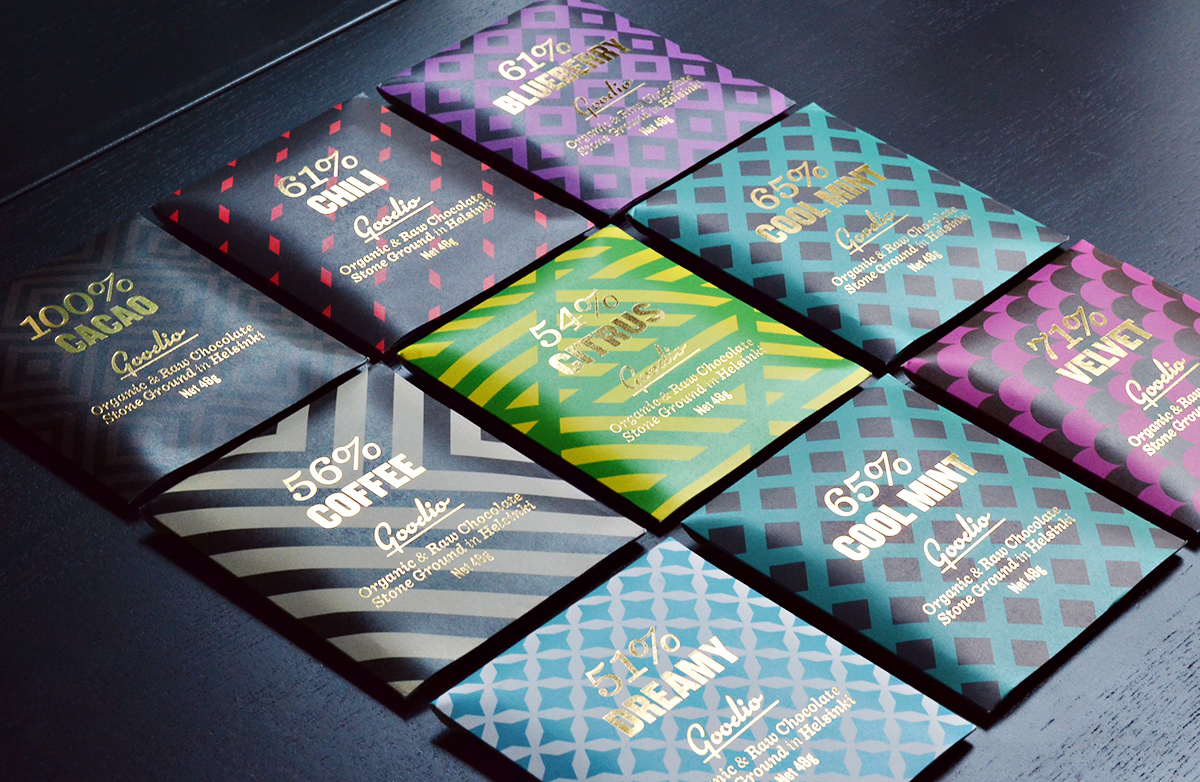 Goodio Raw Organic Chocolate Review
Goodio is a new up and coming chocolate brand based out of Finland. They wanted to create good quality chocolate in a earth-friendly and sustainable way, so they started their own company. Today they've got 11 different flavours of chocolate, and also make coconut milk ice creams. And, they promise this is just the beginning.
Each bar is packaged in a stunningly designed thin envelope packet, making it feel extra luxurious. The pretty packaging also makes these Goodio bars the perfect little gifts.
Here are my thoughts on the flavours I tried.
100% Cacao
Let me tell you, eating a piece of 100 percent cacao is pretty hard core. I knew this, but a taste testing is a taste testing and I would leave no flavour behind! Let's just say, a bar of pure cacao isn't going to taste much like the chocolate you're used to. Since it's 100 percent cacao it's not mixed with anything like a sweetener or milk. So it's very… dark, and bitter, and not sweet at all. This kind of chocolate is best mixed into raw baking recipes, which is exactly what I intend to use (the rest of) it for.
61% Chili
If this is the first time you're hearing of the combination of chili and chocolate, you've clearly never seen the movie Chocolat. It stars Johnny Depp. A young, delicious, Johnny Depp. Yes, go watch it. Anyway, side note.
Back to chili and chocolate. An interesting combo that really plays with your tastebuds. But this one's not for the faint of heart. The 61% Chili chocolate flavour definitely provides quite a sting. I think I actually coughed while eating it. This flavour is for those who gladly brag about how "nothing's too spicy".
65% Cool Mint
The mint scent of the 65% Cool Mint flavour is undeniable. As soon as you open the package you'll get hit with that fresh smell of minty chocolate, quite reminiscent of the classic After Eight thins. The flavour is not very far from it either, yet somehow so much more pure. You can taste how the mint is natural and not artificial. Mixed with the smoothness of the chocolate this one is a lovely combination.
71% Velvet
I'm going to be honest with you, I had no idea what to expect from a chocolate labeled "velvet". What does velvet taste like? In this particular case, it's like a slightly less bitter dark chocolate. Imagine a dark chocolate bordering on a milk chocolate. I'm usually not super big on bitter dark chocolate. But 71% Velvet turned out to be the perfect level of dark for me.
56% Coffee
Most of us have tasted coffee at one point or another, so you'll know it has a pretty distinct flavour. I definitely had a pretty particular expectation of what the 56% Coffee flavour was going to have a hint of. Oddly enough though, every time I nibbled on it, the flavour reminded me of a toned down version of the Cool Mint bar, rather than sparking my caffeine receptors. Not bad, but just not exactly what I was expecting.
61% Blueberry
People always say to eat blueberries before an exam because they're said to aid brain function and focus. So, with that in mind, blueberry flavoured raw organic chocolate can only be super good for you, right? The 61% Blueberry flavour was one of my favourites, nice and creamy chocolate, not too bitter, and with a nice little hint of blueberry.
54% Citrus
The combination of citrus and chocolate, most commonly orange flavoured chocolate, is nothing new. It's a winning combination but certain chocolate brands get it oh-so-wrong with the artificial orange flavour they use. Obviously, that's not the case with Goodio. There's nothing artificial about them, just pure organic and raw goodness here.
The 54% Citrus was actually one of my favourite bars. With only 54% cacao, it was rather "milky" and creamy with a really fresh citrus tang. Delicious!
51% Dreamy
My favourite bar of all the Goodio bars I tried was the 51% Dreamy. What can I say? I'm more of a milk chocolate kind of girl. I like to think it's a reflection of my personality, rather light and dreamy than bitter, right? The 51% Dreamy bar is pretty aptly named. The lower cacao content leaves space for that creamy coconut and cacao butter flavour. So, if you're a fan of milk chocolate, this one is definitely for you.
Do you prefer light and dreamy or dark and bitter chocolate?