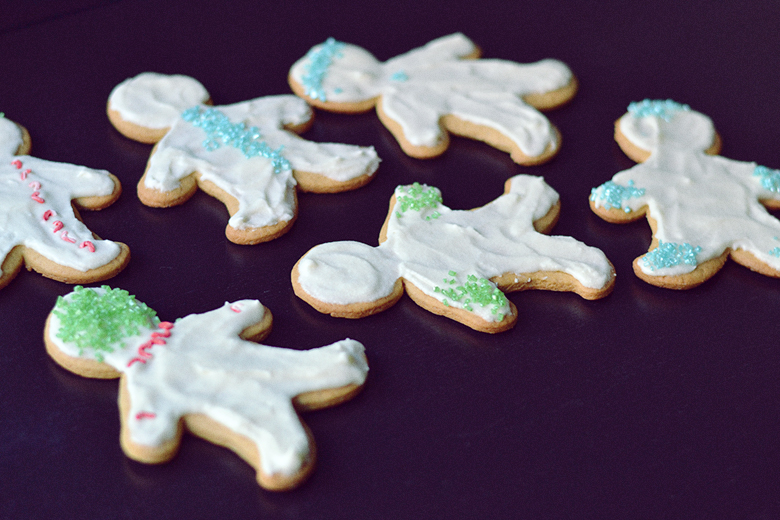 I have fond childhood memories of helping my mother frost the sugar cookies at Christmas. She'd do the baking and the kneading and then my brother, sister and I would help out with the cookie cutters and the frosting and decorating with sprinkles. Sugar cookies are such a simple and kind of plain cookie, really, but I love them. I think it's the frosting that does it. And the sprinkles. Sprinkles always make things more fun don't they?
FROSTED VEGAN GINGERBREAD SUGAR COOKIES
1/2 cup vegan butter, softened
3/4 cup light brown muscovado sugar
1/4 cup pumpkin puree
1-2 tsp liquid vanilla extract
1 3/4 cups all purpose flour
1/2 Tbsp cornstarch
1 tsp baking powder
1/2 tsp baking soda
1/4 tsp salt
1-2 tsp almond milk (or other non-dairy milk)
FROSTING
3 Tbsp vegan butter, softened
2 – 3 cups powdered sugar
1 tsp vanilla extract
Juice of 1/2 lemon
Splash non-dairy milk (until desired consistency)
METHOD
1. In a large mixing bowl, cream the softened butter until smooth. Add the sugar, vanilla and pumpkin puree, and beat until combined.
2. Sift the flour, cornstarch, salt, baking soda and baking powder into the bowl and mix until incorporated, being careful not to over mix.
3. Add almond milk and mix until a soft dough is formed, it's easiest to knead with your hands at this point.
4. Cover the dough in plastic wrap and freeze for 15 minutes, or put it in the fridge for 30-45 minutes.
5. Preheat your oven to 350 F / 175 C.
6. Roll out the dough between two pieces of plastic wrap, lightly flouring the plastic layers to avoid the dough sticking too much. Cut out shapes and place them on a baking tray lined with parchment paper, then place in the freezer for 5-10 minutes before baking to ensure they keep their shape.
7. Bake in the centre of the oven for 8-10 or very slightly golden brown.
8. Allow to rest on the baking tray for a few minutes after baking, then transfer to a cooling rack to cool completely.
FOR FROSTING
1. In a mixing bowl, cream together the softened butter, vanilla, powdered sugar and lemon juice. Slowly add enough almond milk to reach desired consistency. For best results, keep the frosting pretty thick so that you can easily spread it on the cookies.
Allow the cookies to cool completely before frosting and decorating them with sprinkles. Freeze un-frosted cookies for later, making more frosting as needed.
Enjoy!