These festive cake pops are undeniably cute. They're great as a centrepiece on the Christmas table, or why not give festive cake pops as gifts to your friends and family (P.S They're the perfect stocking stuffer).
Brace yourselves, because I'm about to admit something that might come as a surprise to you.
In all my years of creative baking, I have never. made. cake pops. I know. How even!? I'm just as shocked as you are that I have somehow not got around to making these uber trendy and endlessly decorate-able little sweets. Which is why I decided nothing was going to get in the way of me making festive cake pops for Christmas. And I had the perfect idea for them.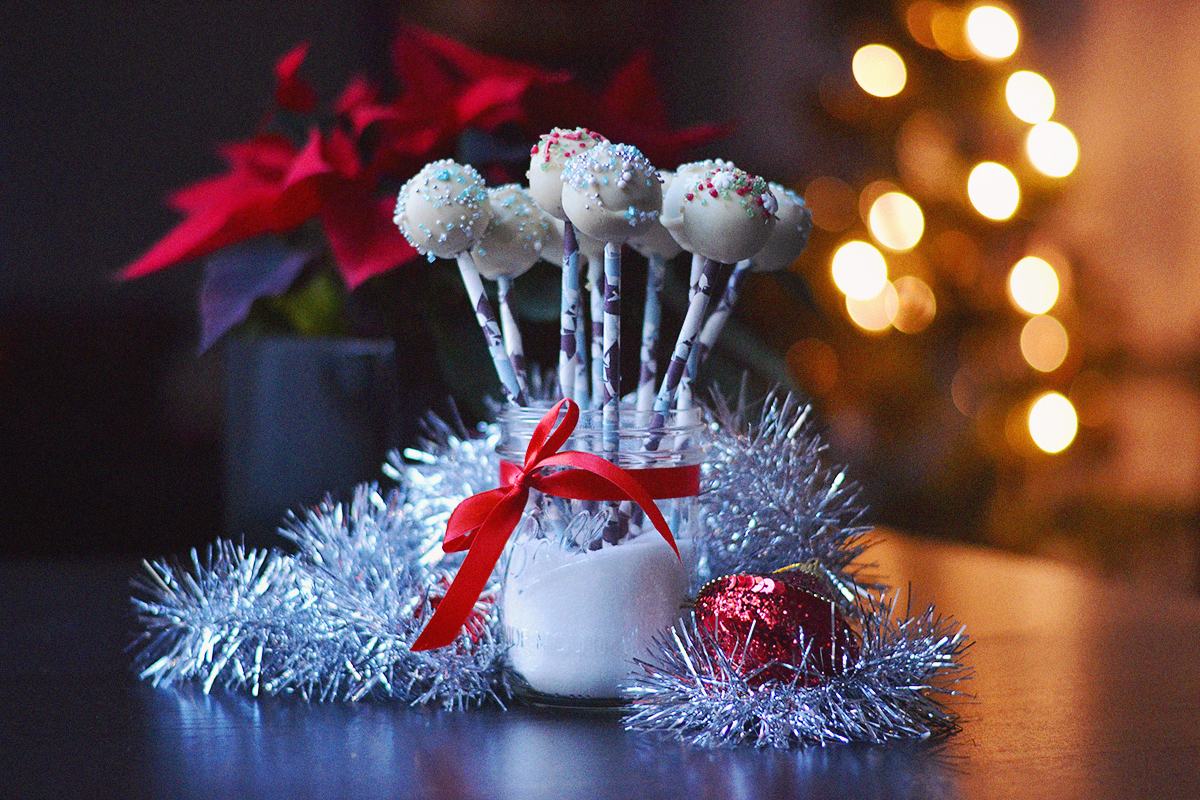 Related: Vegan White Chocolate Gingerbread Truffles
Lussebullar – sweet saffron flavoured buns – are perhaps the most traditional Christmas pastry in Sweden. They might not be the most exciting thing ever, but as traditions go, it's just not Christmas without them. Lussebullar are also what sparked an idea in me that prompted my cake pop mission.
After making a big batch of classic lussebullar a couple of weeks ago, I decided to set aside a couple of them to use for my cake pop project. I mixed a couple of buns to crumbs in the food processor, added a bit of sugar (since the buns aren't very sweet), and a couple of tablespoons of cream cheese and just like that, I was on my way to making my very first cake pops.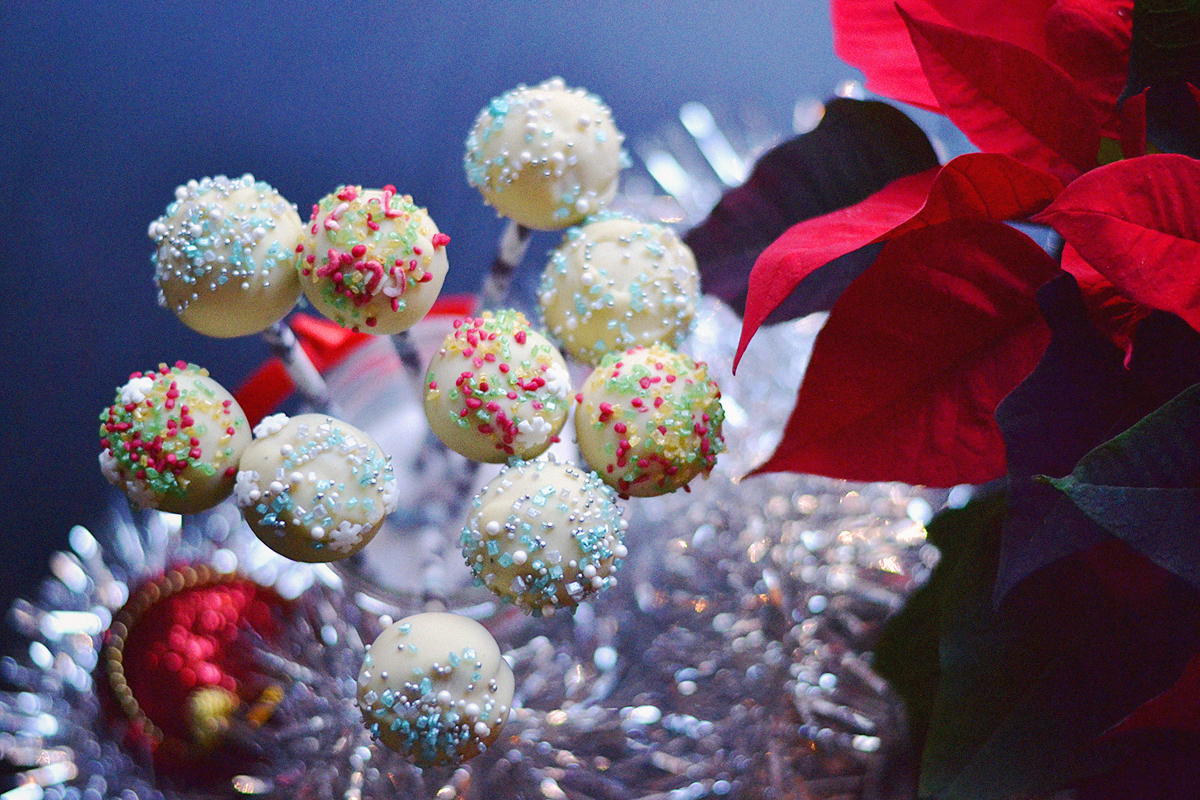 Related: Chocolate Dipped Bliss Ball Truffles
Despite never baking cake pops before, I have picked up a trick or two along the way. A tip I heard is crucial to the success of cake pops is to dip the stick in melted chocolate before pressing it in the cake balls. This helps "glue" the stick to the ball, avoiding it falling off when you coat them in chocolate.
Also, make sure you let the balls (including the chocolate-glued stick) rest in the freezer for a couple of hours before you attempt to dip them in melted chocolate, this is to avoid a melted gloppy mess and failed cake pops.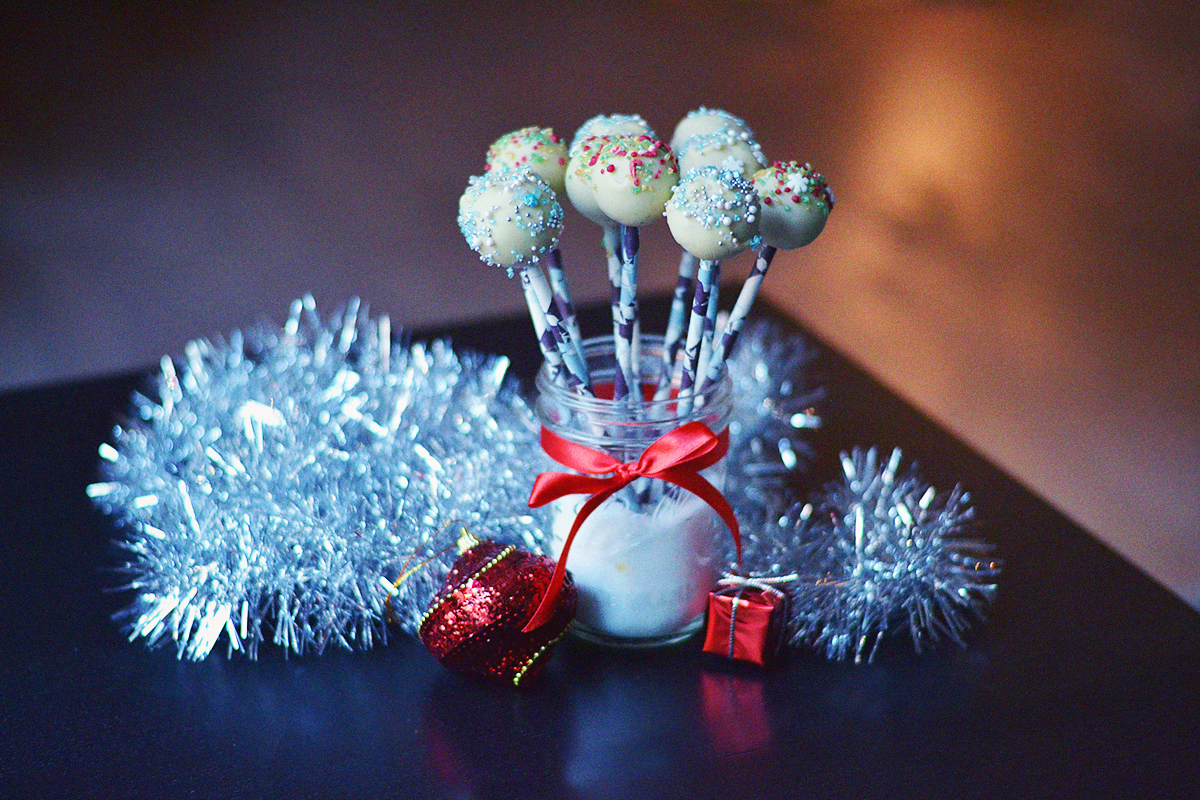 Related: Saffron Buns with Almond Paste & White Chocolate
Now that I've finally made these festive cake pops and they came out so freakin' cute, it's all I want to do! Like, somebody stop me because I'm about to open up a cake pop shop. Good thing these make great gifts and stocking stuffers (just cover each one in a bit of cellophane and seal with a ribbon). Cute!
Festive Cake Pops
Makes about 20 cake pops
4-5 large lussebullar / saffron buns (store bought, or follow this recipe)
150 grams / 5.3 oz cream cheese (I used Oatly's vegan cream cheese)
2-4 Tbsp sugar
250 grams / 9 oz vegan white chocolate
20 decorative paper straws
festive sprinkles for decorating
Method
See step-by-step photos below.
Break up the saffron buns into small chunks and place in the food processor. Blend until you're left with crumbs.
Add the cream cheese and sugar and blend again until you've got a dough-like texture that you can roll into balls (if it's too dry, add more cream cheese). Taste test and see if it's sweet enough, if not, add more sugar.
Roll into 20 balls and place on a tray lined with parchment paper.
Melt 50 grams (about 2 oz) of the white chocolate. Dip each straw into the white chocolate and then right away insert it into the cake ball.
Place in the fridge until the white chocolate is firm (about 30 minutes). Then transfer them to the freezer for at least 2 hours.
Once frozen, melt the remaining white chocolate. Dip each cake pop in the melted chocolate, swirl it around, and then allow excess chocolate to drip off. Quickly top with sprinkles before the chocolate sets, then gently stand it in a tall glass to allow the chocolate to set completely. Repeat with the remaining cake pops (I took a couple out of the freezer at a time to make sure they stayed as cold as possible).
When all the cake pops are coated, place them in the fridge to allow the chocolate to set completely. Once hard, you can carefully transfer them to an airtight container or bag and store in the freezer. Or enjoy right away!
Happy cake popping!