Here's a post that's long overdue! This is the recipe for the absolutely delicious no-bake Crunchy Caramel Chocolate Slice that I made for my birthday this year.
Since we're on the topic of my birthday, I guess I should start this off by giving you a little recap of how I spent my day this year. My birthday fell on a Monday this year, so for various reasons including convenience, we celebrated the weekend prior to the actual day. My boyfriend's parents were visiting so we had a fun weekend of activities planned, ending with a birthday dinner on Sunday evening at a Lebanese spot.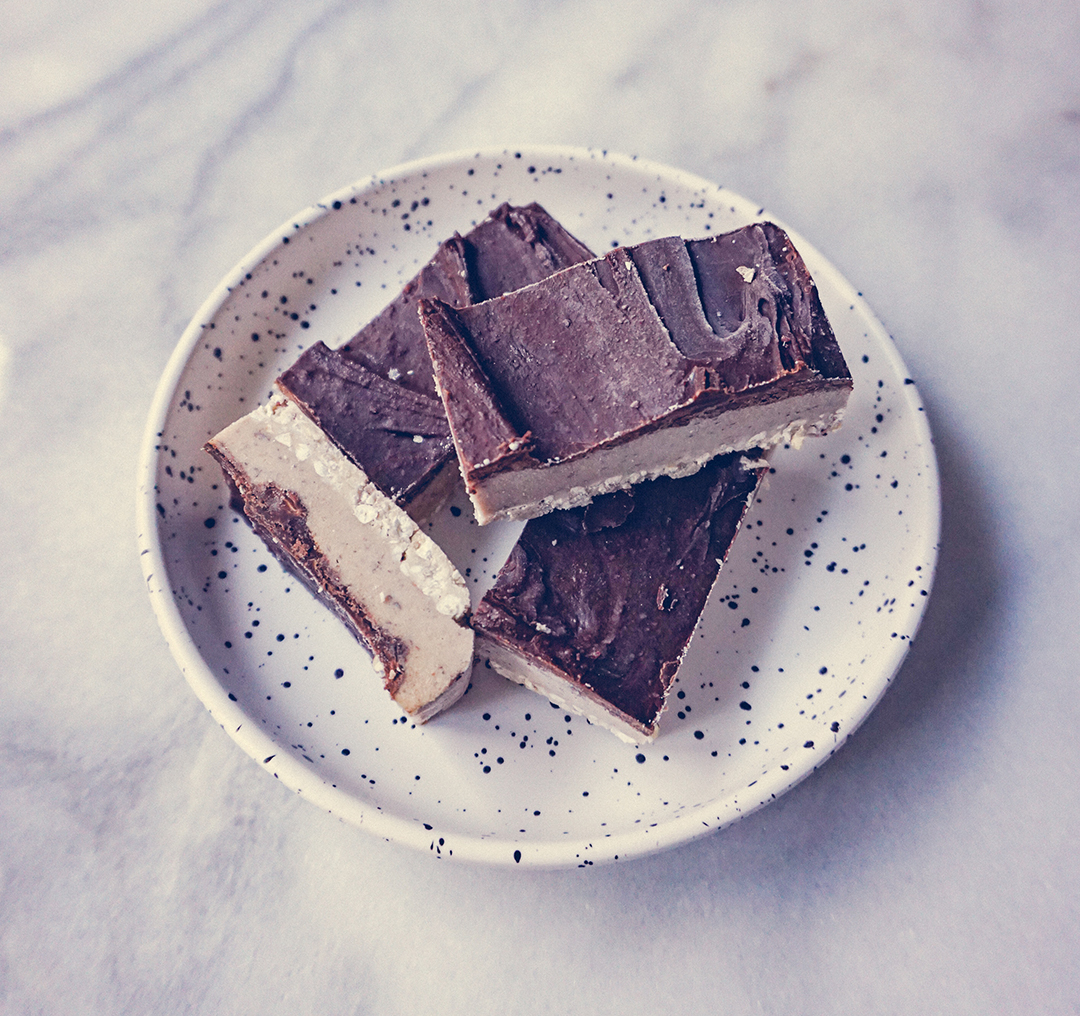 Then, on my birthday morning I woke up feeling like a wreck. Sore throat, zero energy and a flu that gradually gained momentum throughout the day. So, I spent 90 percent of the day on the sofa watching whatever half-interesting and/or entertaining series or movie I could find on Netflix. The remaining 10 percent of the day was when I mustered up enough energy to get up and quickly throw together this no-bake Crunchy Caramel Chocolate Slice.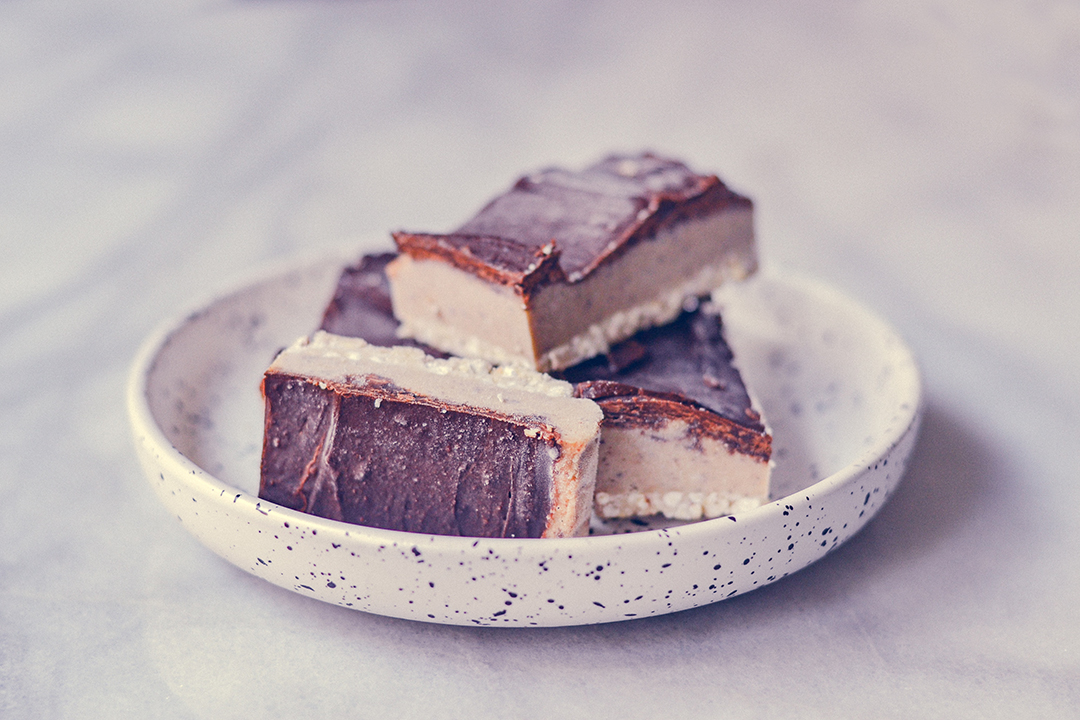 The fact I was able to "bake" this while sick with the flu is a pretty good indication of just how easy this is to make. And it was a welcome treat the following days as I spent nearly a week in flu land.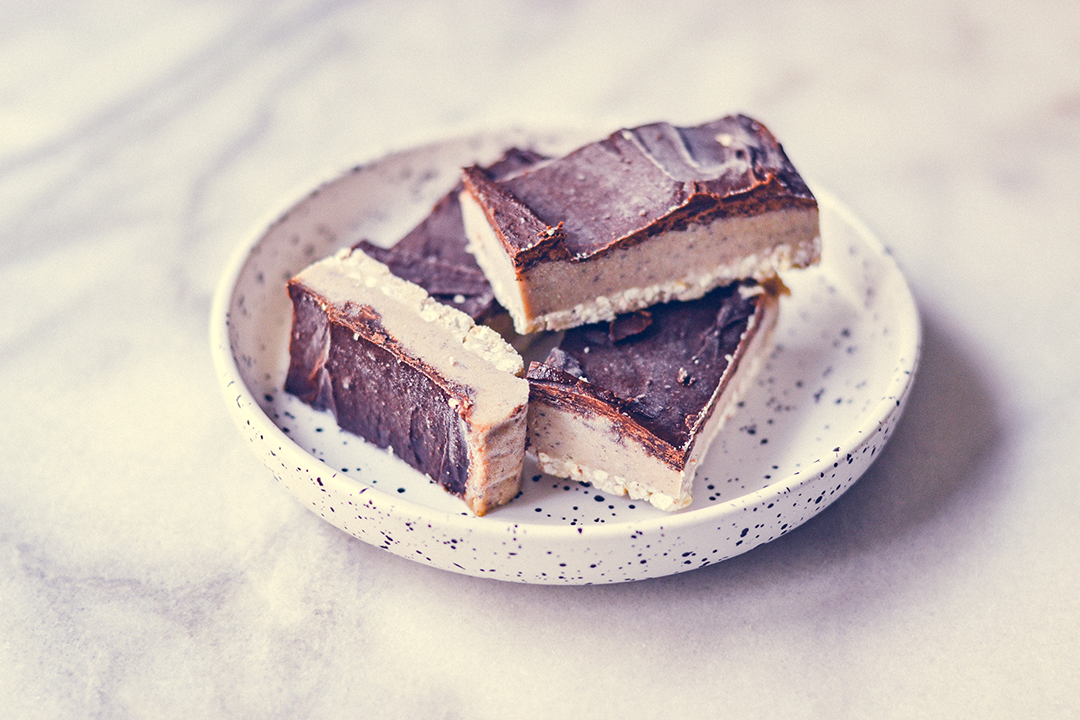 So, wherever your energy levels are at, and for whatever occasion – I highly recommend this delicious Crunchy Caramel Chocolate Slice.
Crunchy Caramel Chocolate Slice
For the base
1/2 cup buckwheat grains
1/4 cup cashews, ground to a flour
1/3 cup shredded unsweetened coconut
2 tbsp coconut oil
1 tbsp maple syrup
2 tbsp boiling water
For the caramel
1 cup medjool dates, pitted (soak in warm water for a few minutes to soften them)
1 cup raw cashews
1/4 cup coconut oil
1/2 cup hot water
1 tbsp tahini
1 tbsp maca powder, optional
1 tsp vanilla bean powder
1/4 tsp salt
Topping
120 grams raw dark chocolate
How to make it
1. Combine all the base ingredients in a a food processor, blend until it starts to stick together.
2. Press the base into a baking tray lined with parchment paper.
3. Next, make the caramel. Combine all the ingredients for the caramel in your food processor, blend until you have a smooth and creamy "sauce".
4. Spoon the caramel on to the base and spread evenly.
5. Place the cake in the freezer for 2-3 hours or until firm.
6. Once your cake is firm, melt the chocolate and spread it on top of the frozen firm caramel layer.
7. Place in the freezer for another 15-20 minutes to allow the chocolate to set.
8. Using a sharp knife, cut into small squares. Serve frozen or allow to defrost a little bit before serving if you prefer the slices a little softer/creamier.
Enjoy!
This recipe is adapted from Healthy Luxe.