These Vegan Carrot Cake Cookie Sandwiches combine two of my favorite types of sweets – carrot cake, and cookie sandwiches!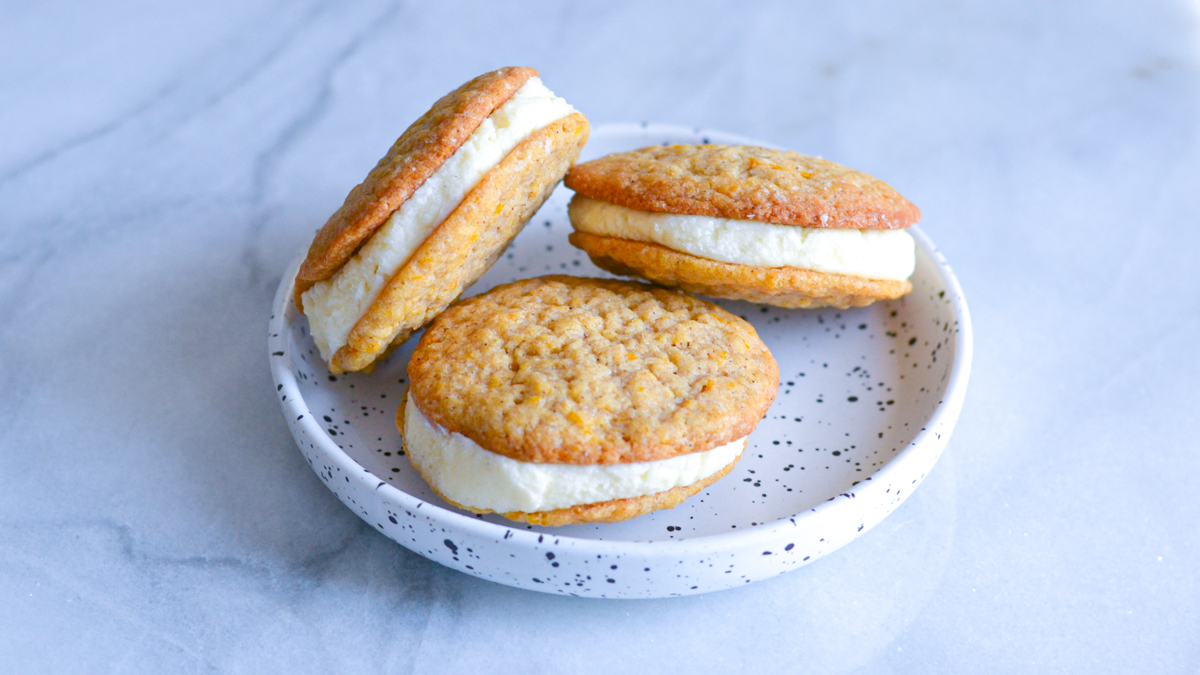 I love a good cookie sandwich. How can you not when it's a combination of two of the tastiest sweets there is – chewy cookies with a bit of a crunchy edge paired with a generous amount of buttercream filling. Yum!
You might also like this recipe: Vegan Oatmeal Creme Pies
I was first introduced to cookies hugging a thick layer of frosting years ago, it was during one of my visits to my aunt who lives in Boston, MA. We were at a farmer's market and I spotted these luscious looking cookie sandwich things I'd never seen before. Obviously, I had to get one. Turns out, it was an oatmeal creme pie and it was love at first bite for me.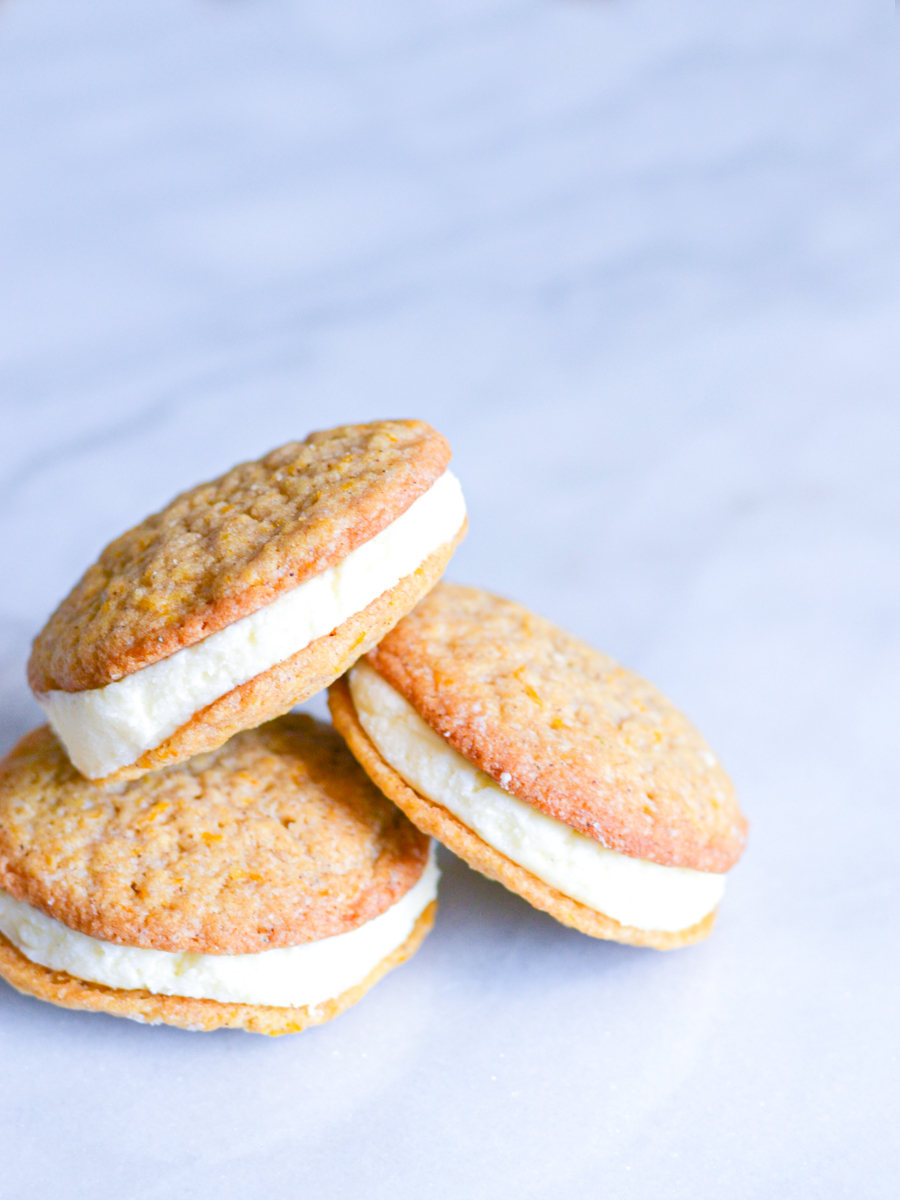 I've since recreated those oatmeal creme pies on multiple occasions. One of my first recipes for them (from 2014!) can be found here, you can find my vegan oatmeal creme pie recipe here, and I've even done a raw vegan version of them which you can find here. I told you I love them! Everyone who's got to taste the cookie sandwiches I've made have had the same affectionate reaction to them as I first did, so they're a great cookie to make and share.
Enough about oatmeal creme pies though! This post and recipe is for Vegan Carrot Cake Cookie Sandwiches. We're levelling up and putting a carrot cake twist on the sandwich cookie.
These cookies are soft with a crunchy edge, they have the signature specks of orange carrot in them, a hint of spice, and then finished off with a thick layer of buttercream. You could do a cream cheese frosting as your filling to really go all-in on the carrot cake flavours, but I used what I had on hand this time and whipped up a buttercream.
Vegan Carrot Cake Cookie Sandwiches
Yield: about 18 cookies
Ingredients
150 grams of vegan butter
1 decilitre / 90 grams sugar
1 decilitre / 80 grams light Muscovado sugar
60 grams grated carrot
3 decilitres / 180 grams plain flour
1 tsp baking powder
1 tsp salt
2 tsp cinnamon
1 tsp cardamon
1 tsp ginger
Frosting
100 grams vegan butter
1 cup powdered sugar
1-2 tablespoons fresh squeezed lemon juice (or water)
How to
Preheat the oven to 175C/347F.
In a medium bowl, mix together the butter and sugars. Add the grated carrot and mix again until combined.
In a separate bowl, add all your dry ingredients – flour, baking powder, salt, cinnamon, cardamon and ginger – and mix.
Sift the dry ingredients into your wet ingredients and mix until incorporated.
Roll the dough into balls and place them on a baking sheet lined with parchment paper. They'll spread out so make sure you space them a couple of inches apart.
Bake in the oven for 12 minutes, keep an eye on them and remove once they start to brown around the edges a bit. Allow to cool slightly on the baking tray before transferring to a wire rack to cool completely.
For the frosting/filling: using an electric beater, whip the butter until smooth. Add the powdered sugar and lemon or water and whip again until you've got a thick buttercream, add more water if it's too dry or more powdered sugar if too wet.
Assemble the cookies by piping or spreading the buttercream on the underside of one cookie and then topping with another cookie. Then store in an airtight container in the fridge.
Store your Vegan Carrot Cake Cookie Sandwiches in the fridge. I think cookie sandwiches are best served cold, so both store and keep them in the fridge until you're going to serve them. Enjoy!