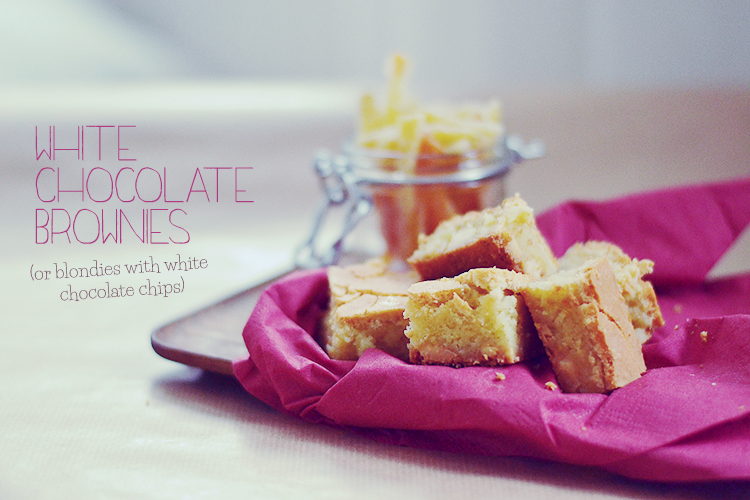 I've made these white chocolate brownies three (!) times in less than two weeks.
They were such a hit with Tom and his friends that they've been a standing request. I first made them for a day-trip of skiing for them, and they've already become a bit of a skiing trip tradition (or must?). I even sent a batch along with them to the airport, on their way to go skiing in Chamonix. (Meanwhile, I'm stuck in a grey and rainy Stockholm, studying. C'est la vie…).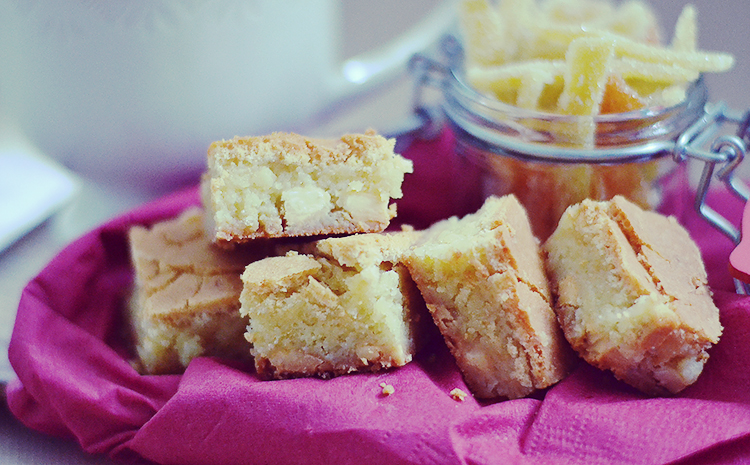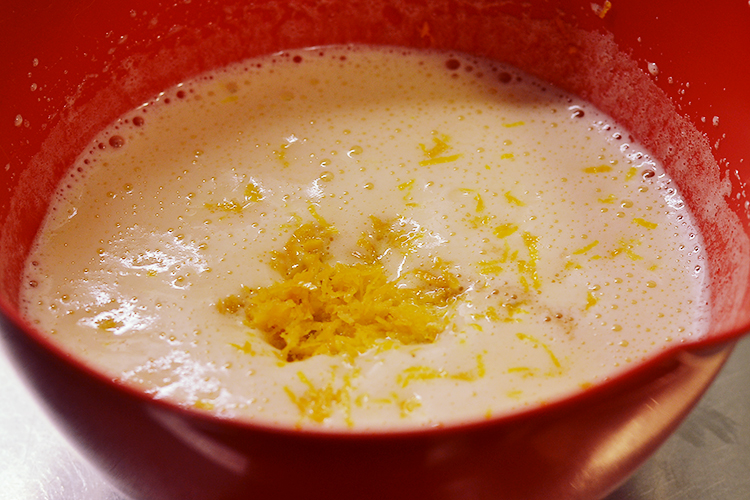 Key ingredient right here – lemon zest. If white chocolate and lemon zest were humans, they'd be married. Just saying.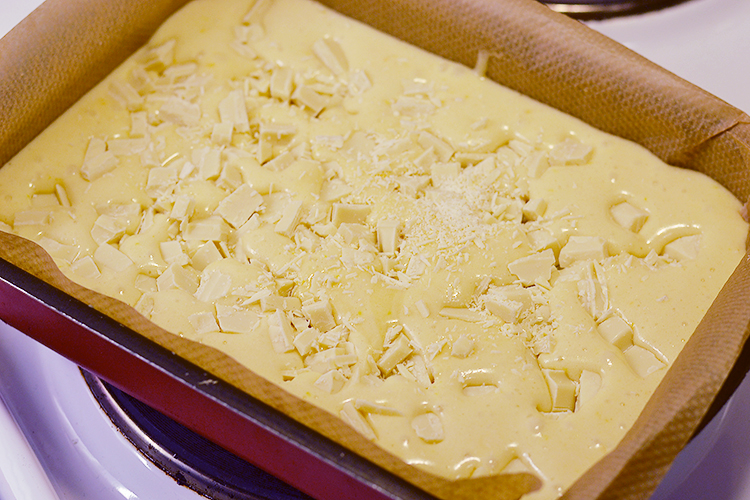 Chunks of white chocolate gives a lovely little surprise in each bite.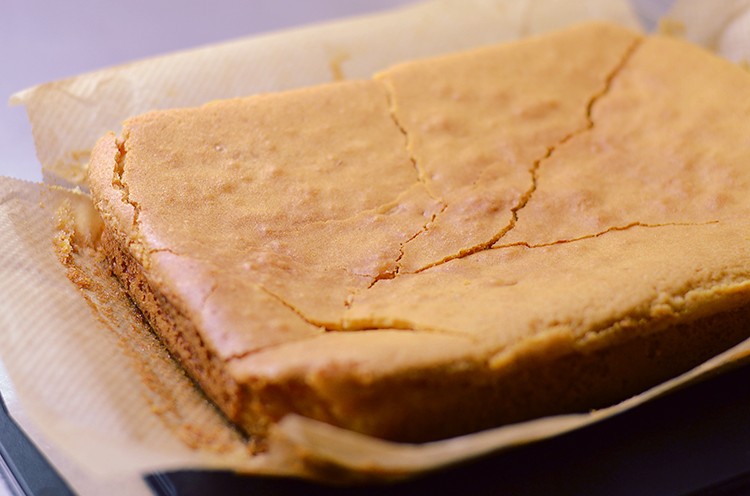 These brownies get a crunchy crust, with a gooey, chewy inside. Perfect!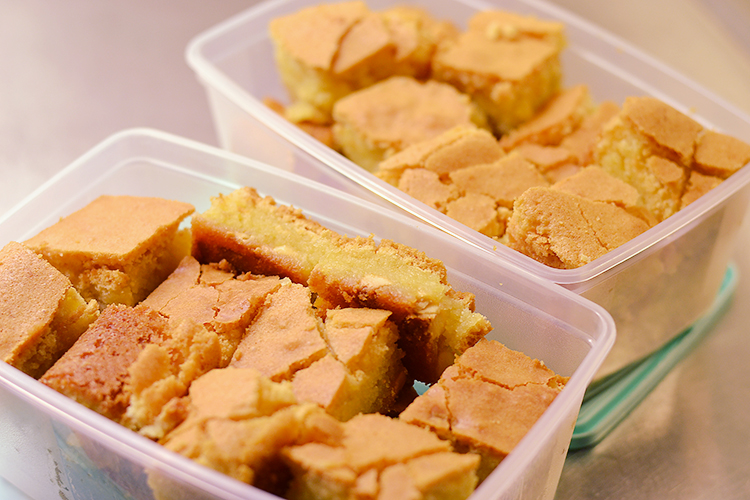 Ready to be shipped off on a skiing trip.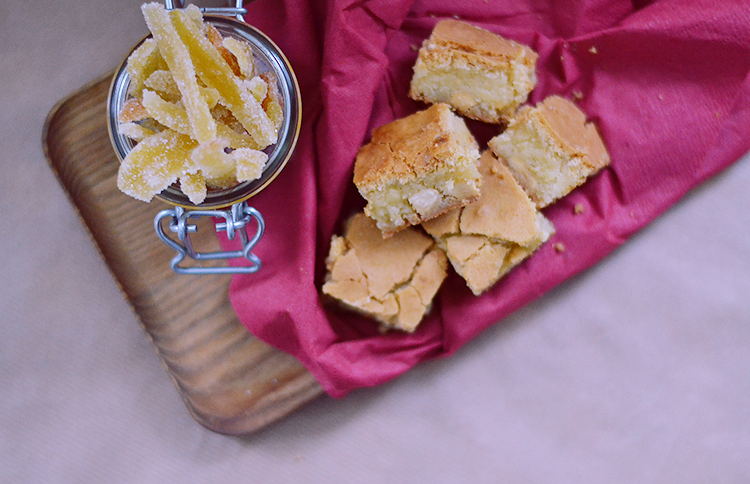 RECIPE:
White Chocolate Brownies, with white chocolate chunks
Yield: about 30 bite sized pieces
5 oz / 150 grams of butter, cut into cubes
5 oz / 150 grams of white chocolate
zest of one lemon
3 large eggs
0.8 cups / 2 dl sugar
0.6 cups / 1.5 dl flour
5 oz / 150 grams white chocolate, chopped into chunks
HERE'S WHAT YOU DO:
Set the oven to 300 F / 150 C.
Chop 5 oz / 150 grams of white chocolate, set aside. In a pot, melt the butter over medium heat.
Once the butter has melted completely, add the chopped white chocolate and stir until melted and completely combined.
Whisk together the lemon zest, eggs and sugar until white and fluffy.
Add the flour and melted butter-chocolate mixture and use a spatula to mix until completely combined.
Line a 8×12 inch / 20×30 cm pan with parchment paper and pour the batter into it.
Chop up the remaining 5 oz / 150 grams of white chocolate into small chunks and sprinkle across the top of the batter.
Bake in the lower third of the oven for about 50 minutes until crispy and brown on top and gooey in the centre.
Allow to cool slightly, then grab the edges of the parchment paper to transfer the cake out of the pan and onto a wire rack to cool completely.
Once cool, chop into bite sized pieces and store in airtight containers in the fridge. Tip: put parchment paper between the layers of brownies when storing them, to avoid them sticking together.
Enjoy!