Since discovering a method for making vegan meringue, the possibilities of how to use it seem endless. The meringue is made using one very unexpected ingredient: chickpea brine (the water leftover from a can of chickpeas). It's being called aquafaba in the vegan baking community (a word I personally think is a bit silly, but for recognition purposes I'll use it here). I believe that name was coined in the Facebook group solely dedicated to the stuff.
My latest experiment using aquafaba is ice cream. I've previously experimented with a number of different Nana Ice Cream flavours and combinations and frozen bananas never fail to provide a simple, quick and satisfying bowl of ice cream. But after making this batch of aquafaba ice cream, I'm willing to suggest that this is even easier than making Nana Ice Cream, give it a try and let me know what you think!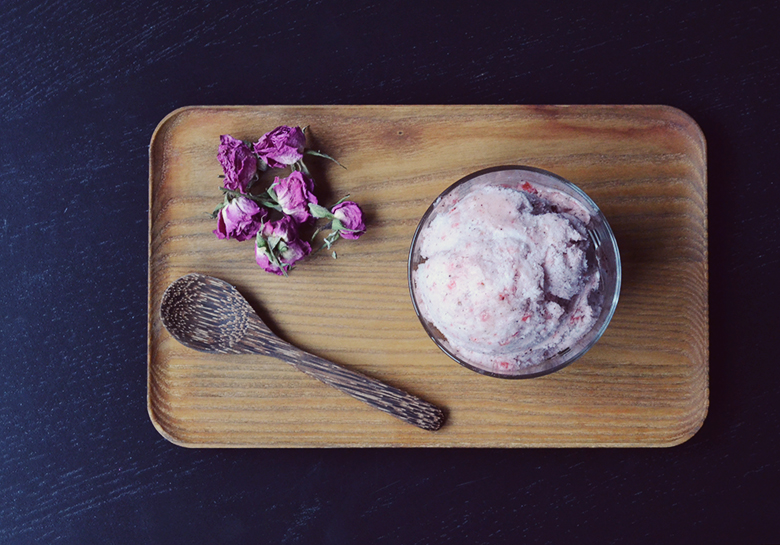 STRAWBERRY SWIRL ICE CREAM

1 cup strawberries
1-2 Tbsp sugar (or coconut sugar, syrup or other sweetener of choice)
1/2 cup chickpea brine (aka aquafaba)
1/2 cup powdered sugar
1/2 tsp pure vanilla powder
METHOD

Rinse and drain strawberries, add them with the sugar (or other sweetener) to a food processor and blend to a purée.
In an electric mixer, whip the chickpea brine on high until stiff peaks form (about 3-5 minutes)
Slowly add in the powdered sugar and vanilla powder while still whipping.
Using a spatula, carefully fold in the strawberry purée.
Transfer to an airtight container and freeze for at least 4 hours before digging in.
Enjoy!