Vegan lasagna may sound super complicated, I mean how do you substitute the cheese and stuff? This recipe is proof that quick and easy vegan lasagna actually is a thing.
I'm constantly trying to come up with quick, easy, and delicious meals that I can make big batches of, leaving enough leftovers to serve us lunches and dinners for several days. Because let's be honest, I just don't have the time (or energy) to slave over the stove every evening.
Dusting out the ole pantry the other day, I found half a box of lasagna noodles and got inspired (don't worry, they weren't past their best by date). I've never made vegan lasagna before, mostly because lasagna seems like such a project. But it was so quick and easy, and makes for perfect leftovers. I did my usual and grabbed whatever random ingredients I had on hand, which was a recipe for success because this vegan lasagna turned out amazing!
Don't believe me? I got high fives from my boyfriend when he tasted this. *takes a bow*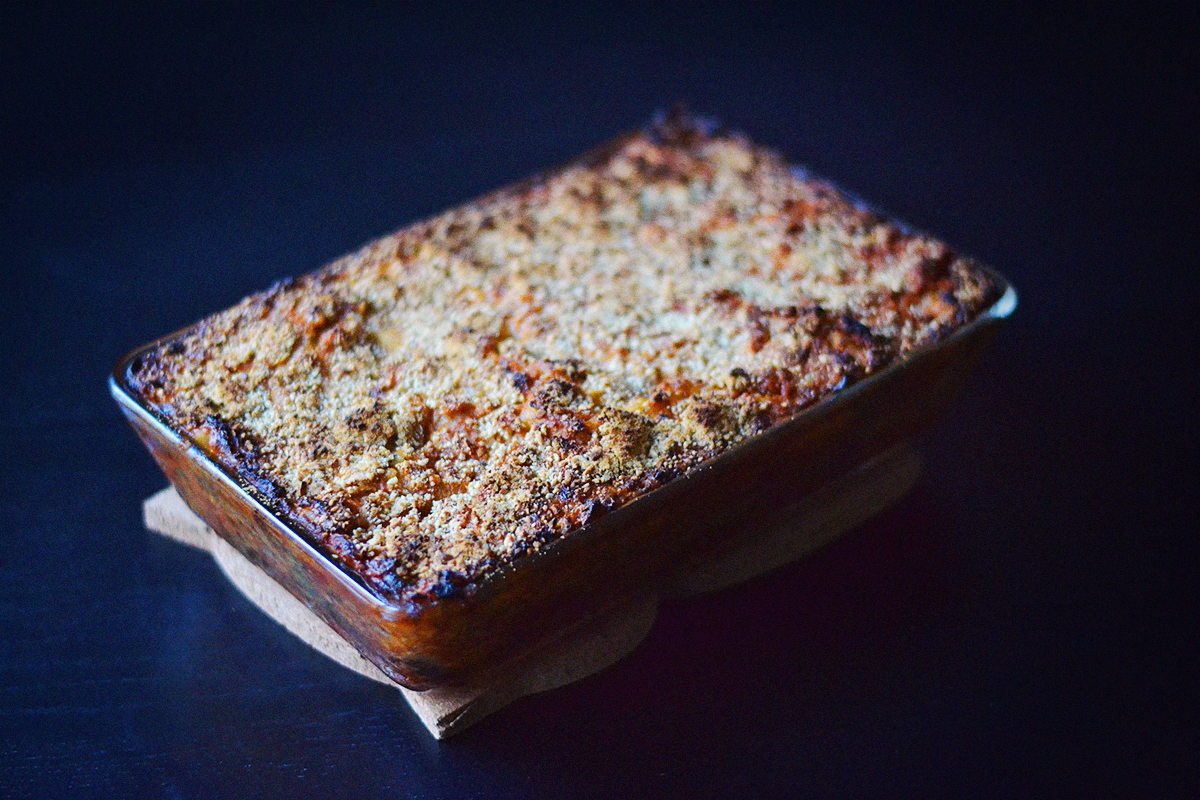 Quick and Easy Vegan Lasagna
For the spaghetti sauce
1 tsp coconut oil (or other vegetable oil)
1 large yellow onion, finely chopped
1 medium zucchini, finely grated
2 cloves garlic, minced
250 grams (9 oz) of vegan mince (I used Anamma's vegan mince)
780 grams (27.5 oz) canned tomatoes
1 teaspoon oregano
1 teaspoon thyme
1/2 teaspoon chili powder, optional
1/2 teaspoon cinnamon
pinch of salt & pepper
10 sheets of lasagna noodles
250 grams (9 oz) vegan sour cream (I used Oatly's iMat Fraiche)
3-4 bunches of kale
a couple shakes of vegan parmesan (I used Parmezzo from VegAmigo, see note for substitutes)
Method
First things first. Let's make the spaghetti sauce! Heat the oil in a large saucepan, mince the onion and garlic cloves and finely grate the zucchini. Once the pan is heated and the oil has melted, fry the minced onion and garlic until soft and see through.
Add the vegan mince and zucchini and give it a stir. Fry for 1-2 minutes just to heat it up and then add the canned tomatoes and spices, give it another stir and make sure everything is mixed well.
Cover with a lid and lower heat, let simmer for 30-40 minutes, stirring a couple of times.
Meanwhile, prepare an oven proof dish by greasing it with a little big of vegetable oil (I used coconut oil).
Preheat oven to 225 C (437 F).
To assemble the lasagna: Place enough lasagna noodles in the bottom of the dish to cover the whole base. Add a layer of spaghetti sauce to cover, then add a layer of kale and top with another layer of spaghetti noodles. Add another layer of spaghetti sauce and half of the sour cream, add more kale on top and then another layer of spaghetti noodles. Gently press down each layer of spaghetti noodles as you add them. Keep adding layers until your pan is filled, the top layer should be a mix of spaghetti sauce and sour cream.
To finish, top with a generous shake of vegan parmesan.
Bake in the bottom of the oven for 30-40 minutes. Keep an eye on it so the top doesn't brown too much.
Enjoy!
Note: I bought vegan parmesan at Goodstore (pictured below) and a quick Google tells me vegan parmesan is available online in other countries too, but if you don't have vegan parmesan, you can top your lasagna with a mix of finely chopped cashews and breadcrumbs.